Fighter shown 'eating' an enemy soldier's lungs was once regarded as a moderate.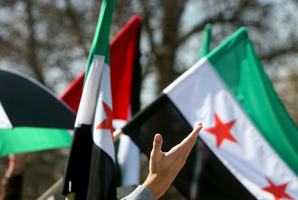 Even by the standards of a savage war, a fighter appearing to eat the lungs of a dead enemy soldier was startling.
Yet Abu Sakkar, the man filmed putting a body part in his mouth, was, until quite recently, seen as someone in the mainstream of the Syrian revolutionaries trying to overthrow Basher al-Assad; something of a hero even for his part in the defence of Baba Amr when the district in Homs came under onslaught from regime forces.
His khatiba, or brigade, Omar Al-Farouq, won praise for taking a stand against the Islamist extremists in rebel ranks who are becoming more of a worry to Western governments than the Damascus regime.
I spent some time with members of Al-Farouq. What was clear was that they were not among the more wild eyes, calling for a medieval caliphate or prepared to pledge allegiance to al-Qaeda. They talked earnestly about the problems the country will face after Assad and how difficult it would be to repair the fractures between warring communities.
Khalid al-Hamad (Abu Sakkar is his nom de guerre) was not always a bloodthirsty man of violence. People in Baba Amr remember him taking part in marches in the very early days of protests which decried sectarianism among the opposition and urged the need for a united front.
Abu Sakkar has claimed that the dead soldier's cellphone contained a film clip "of a woman and her two daughters fully naked and he was humiliating them ... Where are my brothers, my friends, the girls of my neighbourhood who were raped?"
Haitham Mohammed Nassr, a former al-Farouq fighter now in Turkey, agreed the video was extremely damaging to the cause of the opposition, but said it should be put in the context of crimes committed by the Shabiha, the Alawite pro-regime militia. There have been reports that members of Abu Sakkar's own family were raped by regime forces.
"It was a message to the Shabiha. They film young men and women being tortured to try to frighten the people and this was meant as a warning to them. Everyone has been changed by this war; when you are there, when all you are seeing are fires, bombs, bodies it is very difficult to remain normal. We all want Bashar to go, the longer this goes on the more violent people become, it will be difficult to have a normal society after all this."
- Independent