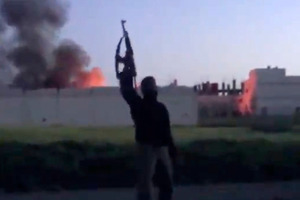 A newborn baby abandoned on the street in the battleground Syrian city of Aleppo has been named Gift from God by the family who adopted her, even at the cost of feeding an extra mouth.
In a city that has been devastated by fighting since July last year, where jobs have disappeared and prices for even basic goods have risen beyond reach, parents face impossible choices.
Doctors say the abortion rate has increased, as parents take fright at the prospect of fending for another child. Others send children to live with family members, or abandon them altogether.
Hibat Allah, as she is named in Arabic, was lucky to survive her abandonment in a rebel-held neighbourhood of the city in December.
"She was left in a bag at the entrance to a building. It was 3am, she was crying, and no one had cut her umbilical cord," said adoptive mother Umm Moawiya, a hairdresser turned volunteer nurse. "She was lucky. In 12 hours, she was seen by 20 doctors in five hospitals.
"She was blue in the face and needed oxygen, but hospitals in [rebel-held] areas did not have the electricity needed to run the incubator. Eventually I found a hospital in an [army-held] area willing to keep her for two days."
Umm Moawiya looked after the baby, who at just 2kg required special care that could only be provided by a person with medical care experience.
With four children already, Umm Moawiya's husband admits he not did immediately welcome the idea of adopting the baby when his wife brought her home and suggested it.
"But my wife and children insisted," Abu Moawiya said. He went to register Hibat Allah's adoption at one of the religious courts set up by the rebels to administer justice in areas under their control.
"If her parents want to reclaim her, they'll have to go there and petition for her," said the 45-year-old trader, who has spent his whole life in Aleppo.
"God willing, no one will come for her," said his wife.
- AFP