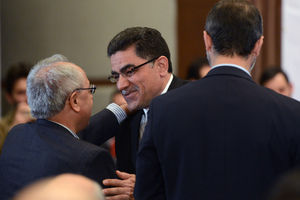 Just last year Ghassan Hitto was an IT executive in Dallas whose focus was on data centres and how to deliver a project on time. But yesterday he was speaking in Istanbul of his plan to use "all conceivable means" to topple President Bashar al-Assad and provide desperately needed aid to the beleaguered people of Syria.
The bespectacled 50-year-old, who was elected the new head of the opposition transitional government on Tuesday, now has the daunting task of building legitimacy for his fledgling administration, despite lacking the support of many high-profile members of his own coalition.
He admitted the difficulties facing the Syrian National Coalition as it attempts to form a government in rebel-held areas were "huge". He was voted in by 35 of the 49 coalition members who cast ballots, but 15 other members were not present - with several walking out in protest at Hitto's perceived links to the Muslim Brotherhood and its backers in Qatar.
Hitto, who was born in Damascus but left Syria in the early 1980s, will need to garner support both from the international community and on the ground if the transitional body is to have any chance of success.
After more than 20 years outside Syria, where he has next to no public profile, that presents a significant challenge.
"I have backed the idea of an alternative government for a long time," said veteran opposition figure Haitham al-Maleh. "But I put my ballot in without a name because there were no candidates from inside Syria. I want a Prime Minister from inside Syria."
Hitto yesterday ruled out talks with the regime until Assad stepped down, which will disappoint Western nations pushing for a more pragmatic stance.
Hitto, who has Kurdish roots, left his job in Dallas late last year and moved to Turkey where he has been co-ordinating relief efforts as director of the coalition's Assistance Co-ordination Unit. His eldest son, Obaida, a former football player, has also been actively involved in the revolution, sneaking into the country last year to assist the rebel forces. Alongside the legitimacy issues caused by the expatriate nature of the opposition, the coalition has also been beset by divisions between Islamists and liberal members, and Hitto's election was no different.
And despite Hitto being touted as a "consensus candidate" who could unite both sides, former Syrian National Council head Burhan Ghalioun and prominent dissidents Walid al-Bunni and Kamal al-Labwani were among those who abstained from the vote.
Labwani said outnumbered liberals could do little to get their voices heard and said he planned to resign from the coalition. "The Government is controlled by the Muslim Brotherhood and the Qatar Government. We will be against this Government and will not give it legality.
"Democracy is from the land and from the people, not from a council that is composed by the Government of Qatar."
Known for being religiously pious, Hitto had been an active member of the Muslim community in the United States. He headed the board of its largest Islamic school and was also a board member of the local chapter of the Muslim American Society, say friends. The society was set up by the Muslim Brotherhood but now downplays its links to the organisation.
Dallas-based security adviser Mohamed Elibiary, who has known Hitto for the past 10 years, described him as more of an intellectual Islamic activist than a rank and file Islamist type. "He is broadly respected amongst various segments of the Muslim community."
- Independent