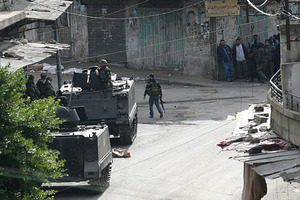 Lebanese soldiers on armored vehicles stage as Lebanese pro-Syrian rebels Sunni gunmen stand in positions during clashes that erupted between pro and anti-Syrian regime gunmen in Lebanon. Photo / AP
A plan to provide military training to the Syrian rebels fighting the Assad regime and support them with air and naval power is being drawn up by an international coalition, the Independent has learnt.
The prospect of Western intervention comes as opposition groups, which have been disorganised and divided, at long last formed an umbrella political group and a command structure for their militias. Their foreign backers are said to believe that the 22-month-long civil war has now reached a tipping point and it has become imperative to offer help to the revolutionaries to enable them to make a final push against the regime.
The head of Britain's armed forces, General Sir David Richards, hosted a confidential meeting in London a few weeks ago attended by the military chiefs of France, Turkey, Jordan, Qatar and the UAE, and a three-star American general, in which the strategy was discussed at length.
Other British Government departments and their counterparts in allied states in the mission have also been holding extensive meetings on the issue.
The commanders' conference was held at the request of Prime Minister David Cameron, according to senior Whitehall sources. Cameron is said to be determined that more should be done by Britain to bring to an end the bloody strife.
One key concern is the onset of winter. There is also a growing belief among the Western backers of the opposition that intervention in some form is necessary now to influence the future political shape of Syria. Jihadist groups among the rebels, some like Jabhat al-Nusra linked to al-Qaeda, have steadily gained in power and influence because of their access to weapons and money coming from the Gulf states putting more secular groups at a severe disadvantage.
The Obama Administration is considering proscribing Al-Nusra as a terrorist organisation, making it illegal for American citizens to fund it and sending a warning message to Arab states not to back it. At the same time Western help will be directed at the moderate groups. The unified rebel command structure set up in Turkey, at the behest of the US and UK, has excluded the Islamist militias.
Britain, France and the US have agreed that none of their countries would have "boots on the ground" to help the rebels. The training camps can be set up in Turkey.
However, any use of air and maritime force would, in itself, be highly controversial and likely to lead to charges that, as in Libya, the West is carrying out regime change by force.
Furthermore, any such military action will have to take place without United Nations authorisation, with Russia and China highly unlikely to back a resolution after their experience over Libya where they agreed to a "no-fly zone" only to see it turn into a Nato bombing campaign lasting months.
The plan will also draw accusations that the decision to station Nato Patriot missile defence systems at the Syrian border, at the request of Turkey, was, in reality, to camouflage intervention.
US Secretary of State Hillary Clinton, Foreign Secretary William Hague and the alliance's Secretary-General, Anders Fogh Rasmussen, had all insisted at a meeting in Brussels last week that the deployment was a purely defensive measure. British defence sources maintain that Ankara would have made the request even without the plan to aid the rebels. Neither Germany nor the Netherlands, which will be deploying the Patriots, have been part of the secret Syria talks.
There is a growing belief that the Russians, who had steadfastly backed the regime, are now reconciled to a future Syria without Bashar al-Assad. Officials in Ankara say that a visit by President Vladimir Putin and Foreign Minister Sergei Lavrov to Turkey last week went extremely well.
British and American officials say the Kremlin's concerns about chaos after the departure of Assad, with jihadists emerging in control, is shared by governments in the West and Russian help will be needed to avert a bloody endgame.
- Independent