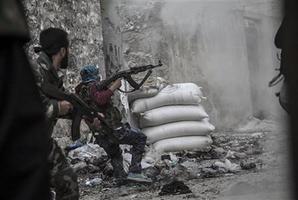 The United Nations is not certain that a ceasefire announced by the Syrian government and rebels will start on Friday, but it has humanitarian workers ready to move in if fighting halts, UN spokesman Martin Nesirky said.
UN leader Ban Ki-moon "welcomes the reported announcements about a suspension of violence during the Eid holiday. Obviously the world is now watching to see what will happen on Friday morning," Nesirky told reporters.
"It's important that all sides will adhere to this. We all understand that there is a lack of trust between parties, and therefore we all understand that we cannot be sure yet what will transpire," he added.
Following appeals by UN-Arab League envoy Lakhdar Brahimi, the Syrian government has said it will stop military operations Friday for four days but that it could respond to attacks by rebel forces. The main Syrian opposition group made the same announcement.
Nesirky said that if hostilities are halted, "humanitarian workers are ready to move in, convoys are ready to go to be able to reach areas that have not been easily accessible because of the fighting."
He said UN workers would act through the Syrian Red Crescent to start an emergency operation during the four-day Eid al-Adha holiday which starts Friday.
"We would simply fervently hope that the guns do fall silent, that there is a suspension in the violence so that humanitarian workers can help those who are most in need," said Nesirky.
Former special envoy Kofi Annan brokered a ceasefire in April which brought a temporary reduction in violence but was soon forgotten.
The 19-month-old conflict has left more than 35,000 dead, according to Syrian activists.
- AFP