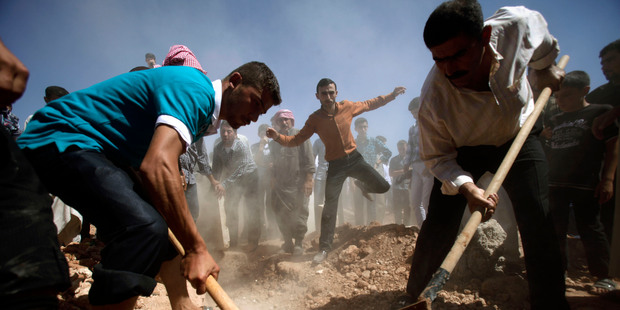 Syrians throw earth over the grave of a Free Syrian Army fighter who was killed today in an airstrike. Photo / AP
Syrian opposition activists have accused the regime of a gruesome new "massacre" after several hundred people were reported killed in a town near Damascus in a ferocious five-day army assault.
Grisly videos issued by opposition militants showed dozens of charred and bloodied bodies lined up in broad daylight in a graveyard, and others lying wall-to-wall in rooms in a mosque in the town of Daraya.
At least 320 people were killed in the five-day onslaught on Daraya by troops battling to crush insurgents who have regrouped in the outskirts of the capital, according to a toll from the Syrian Observatory for Human Rights.
The Local Coordination Committees, a network of activists on the ground, described it as a "massacre" by President Bashar al-Assad's regime and said many victims had been summarily executed and their bodies burnt.
"The shabiha (pro-regime) militias ... have been transformed into a killing machine that threatens the Syrian people and our future," it said.
The Daraya killings could prove to be one of the bloodiest episodes of the increasingly brutal conflict that has convulsed Syria for more than 17 months and shows no signs of abating.
Human rights groups have accused the regime of committing many atrocities since the uprising against Assad's rule erupted in March last year, and a UN panel said earlier this month it was guilty of crimes against humanity.
"Bodies were found in fields, basements and shelters and in the streets," Observatory director Rami Abdel Rahman told AFP.
He said 200 bodies had been identified so far, including 15 women and 14 children, and that many of the victims had died in shelling or were summarily executed.
In the first reaction by a world power, Britain said that if confirmed, the Daraya massacre "would be an atrocity on a new scale".
Pro-government television Al-Dunia said "terrorists" carried out the attacks, as it interviewed residents, including traumatised children, and showed a number of bloodied bodies lying in the streets.
"Our valiant armed forces cleared Daraya of the remnants of armed terrorist groups which committed crimes that traumatised the citizens of the town and destroyed public and private property," government newspaper Ath-Thawra said.
Activists described the offensive as a bid to crush "once and for all" the insurgency in Damascus after rebel Free Syrian Army fighters regrouped to the southern outskirts following an army offensive to retake the city last month.
Assad, whose regime has been hit by a number of defections as the violence intensifies, vowed on Sunday that Syria would continue to resist "at any price" what he said was a conspiracy against it by Western and some regional powers.
And Vice-President Faruq al-Shara - the regime's top Sunni Muslim official - made his first public appearance in over a month at talks with an Iranian official, following opposition claims he had tried to defect and was under house arrest.
- AFP