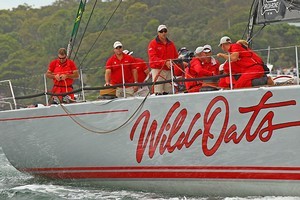 Favored supermaxi Wild Oats XI, winner of line honors in five of the past six years, held a lead of 16 nautical miles over its nearest rival in the Sydney to Hobart yacht race Tuesday as it led a depleted fleet into Bass Strait.
Wild Oats XI and second-placed Investec Loyal had opened a significant gap over the remaining 85 yachts in the fleet after the withdawal of 2003 line honors winner Wild Thing with sail damage.
Investec Loyal was 23 miles ahead of third-placed Lahana which held a similar margin over Hugo Boss in fourth. The Anthony Bell-skippered Investec Loyal was second last year while Lahana, skippered by Peter Millard, has finished second, third and fourth in previous years.
On positions reported at 1.30pm AEDT (0230 GMT), Wild Oats XI had about 323 of the 628 nautical mile race to go before reaching the finish line off Hobart, capital of the island state of Tasmania.
Wild Thing was running in third place when skipper Grant Wharington made the decision to withdraw just after noon AEDT (0100 GMT).
The withdrawal continued Wild Thing's troubled history in the race, having capsized in 2004 and withdrawn shortly after starting in 2009. Wild Thing struck a media boat in Sydney Harbour last year, but still finished fifth across the line.
Apart from taking line honours in 2003, Wild Thing finished third in 2005 and 06 and second in 2008.
Celestial also withdrew Tuesday with a broken gooseneck, which links the boom to the mast, and Accenture Yeah Baby was forced out with an unspecified equipment failure.
The yachts were sailing in good conditions after running into a southerly front on their first night out from Sydney, bringing winds of up to 30 knots and rough seas.
"The front passed last night with quite a punch, with pelting rain that lasted for about 40 minutes," said Mike Broughton, navigator on eighth-placed Jazz.
Broughton said swells were 3 to 4 meters high, short and confused, and the wind veered 180 degrees as the front passed over.
By early afternoon Tuesday, most yachts were still hugging the coast of New South Wales state and were hard on the wind. In Bass Strait the wind was blowing 25-30 knots and had veered to the southwest, allowing the boats to head south on starboard tack.
Wild Oats XI was making about 15 knots.
The wind was expected to lighten through the afternoon, then pick up again close to the Tasmania coast.
- AP