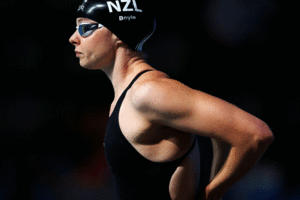 World champion swimmer Lauren Boyle has made a winning start to the Fina World Cup Asian circuit.
The 25-year-old took out the women's 800m freestyle on the opening night of finals in Singapore, recording a time of 8:10.50 to win by one second.
Boyle held off the charge from Spanish swimmers Mireia Belmonte, the triple world short course champion and double Olympic medallist, and Melanie Costa, also a world short course champion.
The result was encouraging for Boyle, who only returned to the pool in late September and has not had any significant competition other than the national short course championships where she raced a number of off-strokes.
Costa made the early running to lead through the first 300m of the short course meet at the Singapore Sports School, but the trio of leaders were locked together at the 350m mark. Costa's run faded with Belmonte and Boyle left to battle it out, as they did at the World Cup meets in Germany and the Netherlands in September.
The New Zealander held the most slender of advantages until the 700m mark where her strength showed through, edging further clear on each of the final four laps.
While their times were slower than those set in September, the result was significant for Boyle who will expect to improve as the circuit continues.
Boyle returned to the pool 20 minutes later for the 200m freestyle final, with the New Zealander naturally struggling for her best, finishing eighth in 1:57.80.
Earlier, Boyle qualified fourth fastest in the 200m freestyle in 1:56.47, while Christchurch's Cameron Simpson clocked 49.91 to be 18th fastest in heats of the 100m freestyle to miss out on a place in the final.
Tomorrow Boyle will contest the 400m freestyle and Simpson his favoured 50m freestyle.
- APNZ