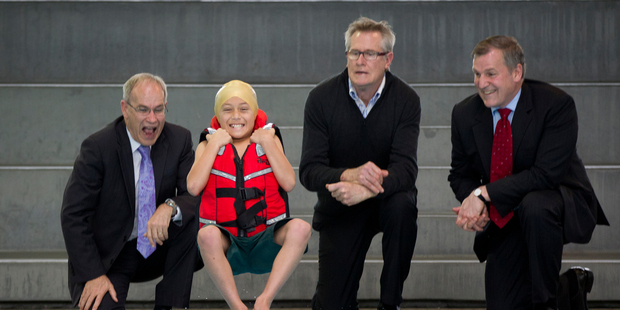 Excited 8-year-old Kairyn Andrews yesterday splashed an Olympic legend and the Auckland Mayor on the way to becoming the 500,000th child to receive a free swimming lesson.
The Find Your Field of Dreams Foundation, set up by running great Sir John Walker in 2008, has been providing free swimming lessons to primary school children for five years.
Yesterday the project achieved the half-million milestone in its goal to give children confidence in the water.
Sporting a gold swimming cap to mark his achievement, Kairyn was part of a class from Point View Primary School taking part in one of the free lessons at Lloyd Elsmore Pool in Pakuranga.
His mum, Crissina Toia, said she was proud of how much he had learned.
"I think this has provided a good base for him to start building up his confidence and learning to swim, and since being involved with the programme it's made him want to do swimming even more," she said.
"He talks about it all the time."
Sir John said the success of the project had been "unbelievable".
"Five years ago I never dreamed we would be here today," he said.
- APNZ