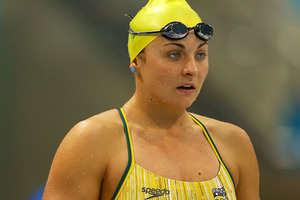 Olympic swimmer Jade Neilsen has accused three men's relay team members of inappropriate behaviour towards her and a female roommate, according to a News Limited report.
Neilsen has told News Limited that she and her roommate at the pre-Olympic camp in Manchester, England were awoken by late night phone calls, door knocking and disruptive behaviour.
She said James Magnussen, James Roberts and Cameron McEvoy were the swimmers involved.
"I will confirm that they were being inappropriate and it was towards (name withheld) and I,'' Neilsen told News.
"I won't specifically say (what happened). It has sort of already come out pretty much what they've done.
"All I can say is their behaviour was completely inappropriate - it was so inappropriate it was not funny.'' The six members of Australia's men's 4x100m swim team - Magnussen, Roberts, McEvoy, Matt Targett, Eamon Sullivan and Tommaso D'Orsogna will front the media on Friday afternoon in Sydney, to answer claims of bad behaviour in the lead-up to the London Games.
Swimming Australia (SA) confirmed on Thursday that the six swimmers had come forward to discuss their involvement in a team bonding session in Manchester before arriving in the Olympic Village.
An independent review earlier this week listed prescription drug abuse amid several "toxic incidents'' which damaged the team's Olympic campaign.
Australia's swimming team won just one gold medal at last year's Games, plus six silver and three bronze - the lowest haul in the pool in two decades.
After two separate reviews into the team's performance, it's been revealed drunkenness, bullying, in-fighting and breaks in curfew damaged team morale.
Leadership was non-existent and communication was poor in what was described as the "lonely Olympics''.
The report said some swimmers were upset at the attention being given to the big stars at the Games.
- AAP