In Part 3 of our look at Auckland's Draft Plan, we find the central area is to be transformed into a pedestrian paradise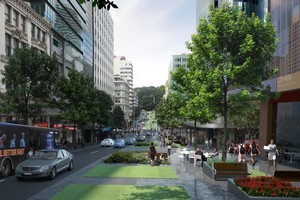 Most motorists want Auckland's Queen Street turned into a mall, as long as they have somewhere to park nearby.
Fifty-five per cent of respondents to an AA survey say they support turning the golden mile into a pedestrian mall.
However, 69 per cent are against a suggestion in the council's draft 30-year plan that the 50,000 parking spaces in the city centre be reduced.
AA spokesman Simon Lambourne says the council should recognise motorists want to drive to central Auckland and park at convenient distances.
He says if there are parking buildings, people will be more than happy to walk around a pedestrian friendly CBD.
- Newstalk ZB