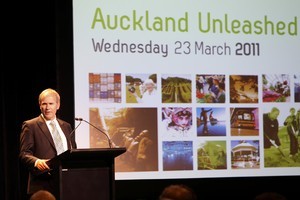 Aucklanders will today be presented with four weighty volumes of plans that will shape the city and region's future.
Their views on them must be made known to Auckland Council before the October 25 deadline.
The council will launch the draft Auckland Plan - a blueprint to improve the city's quality of life over the next 20 to 30 years - and the Auckland City Centre Masterplan for 20 years, the Waterfront Masterplan for 30 years and Economic Development Strategy for 10 years.
Mayor Len Brown will launch the 254-page draft in the new Auckland Art Gallery. Local Government Minister Rodney Hide will be at the launch.
Clashes over its contents were revealed in March when the minister revealed the Government's view 11 days before the mayor issued Auckland Unleashed - a discussion paper to form the draft Auckland Plan.
The Government's paper attacked public transport, land-use planning and economic return on public assets.
Council chief planning officer Dr Roger Blakeley said Mr Brown had twice this year met the Cabinet committee on Auckland governance to talk about the plan. It was also discussed at the Central-Local Government Forum on Auckland, which is co-chaired by Mr Brown and Mr Hide.
Auckland-based senior representatives of a dozen Government departments have also contributed to the draft Auckland Plan.
This was because it will be a broad spatial plan - covering not only growth but also its economic, social, environmental and cultural objectives.
Dr Blakeley said Auckland Unleashed drew 8000 submissions.
Tim Coffey, chairman of the Auckland CBD Residents' Advisory Group, said he would read all four of today's offerings, paying particular attention to economic strategy.
"You need an ability to read and sometimes its copious," he said. "But if you want to take part, there is plenty of opportunity to be heard - whether or not your opinion prevails."