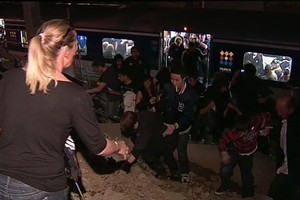 Any smart traveller ducking across to Sydney for a few days pays the extra $20-$30 for the travel insurance that covers the cost of unplanned misadventure while away. Who'd have thought there'd be a need for such a product for people taking a night out in Auckland?
In its absence, Auckland Council is trying to cobble together a compensation package for victims of the rail-service meltdown on the day of the Rugby World Cup opening.
The dilemma it faces is twofold. Who should be compensated and who should do the paying. On Wednesday, Auckland councillors, by 10 votes to eight, agreed to poke a stick at the problem and see what happens. "Given the special circumstances," councillors resolved to "note the proposed compensation arrangements, the suggested sharing of costs and the unbudgeted contribution from Council towards compensation to rugby game patrons severely delayed by rail services on a case by case basis."
They were reacting to an officials' report proposing a complimentary ticket to a probable All Black semifinal to those who missed both opening ceremony and full match, and a free ticket to a probable All Black quarter-final to those who missed the opening ceremony and part of the opening match.
The cost of this compensation was estimated at $50,000-$60,000, and officials proposed that the funding be shared between the various "stakeholders that had a role to play in the organisation of Friday's opening events." The proposed "starting position" was to share the cost equally between Auckland Council, the Government and train operators Veolia.
With the Eden Park quarter-final starting on October 8, and tickets selling steadily, that does not leave a lot of time to line up the three nominated "donors", or to assess, case by case, upwards of 2000 potential claims.
Rightly, Auckland Council agencies quickly apologised for their part in the chaos that marred opening night. But the Government is accepting no blame, pointing the finger directly back at Auckland Transport, the council's transport arm.
Auckland Transport, in turn, has turned the heat up on Veolia for its shortcomings in lack of communications with passengers and providing security staff. Under this sort of pressure, one suspects Veolia will be reluctant to confess to anything at this stage.
As Councillor Dick Quax pointed out, another complication is that the proposed compensation elevates one category of victims - those holding a ticket to the All Blacks versus Tonga match - above other passengers whose experiences were for them at least, as terrifying and upsetting as those people delayed on their trip to Eden Park.
In the Weekend Herald, several victims described their scary hours stuck in trains and then of being caught up on the over-crowded waterfront streets, in front of screens that, in two cases, failed to deliver. Nevertheless, if Eden Park wasn't their ultimate destination, they are not being offered any compensation. In other words, your distress has to include the financial loss of a wasted - or under-used - game ticket.
When quizzed whether the proposed payout would set a precedent for the council, its house lawyer, Wendy Brandon, told councillors they had the option of taking a strictly legal line or of adopting the discretionary, one-off approach Mayor Len Brown was proposing. By a small majority, they followed the mayor.
Undoubtedly, as a political gesture it's a good way to damp down the outrage of the affected ticket holders. But as Mr Quax asks, what about the grumpy concert-goers a month later whose train breaks down and, as a result, they miss the show. Are they not entitled to similar compensation?
If this deal goes ahead, what are councillors going to do if long-suffering bus passengers finally rise up in protest about meetings and appointments missed because of absent buses. Why not payouts for those who are regularly sinned against?