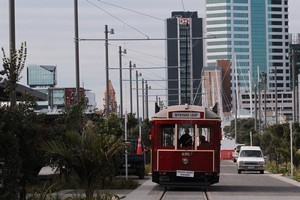 Cyclists are being warned to make sure their wheels do not get wedged in tram tracks on streets around Auckland's Wynyard Quarter.
They are advised to cross the tracks of the new 1.5-km Dockline tram circuit at right angles.
Waterfront Auckland also wants pedestrians and motorists to take extra care around the first trams to run on city streets since 1956 except for the Museum of Transport and Technology's operation at Western Springs.
"It's been more than 50 years since the public has encountered tram tracks and trams operating on busy city streets," said chief executive John Dalzell.
"In the meantime the gauge of cycle tyres has changed and tram tracks are a potential hazard to cyclists who might not be aware of them in the roadway."
The tram circuit opened on Saturday.
Although two historic trams imported from Australia to run in a clockwise direction on the 15-minute circuit are unlikely to travel faster than 10km/h, Mr Dalzell said they would be too heavy to stop quickly to avoid potential collisions.
"Plus, if the rails are wet they require a greater distance to slow down and stop."
Both trams have front and rear indicators, and warning gongs which ring when they pull out in the road after leaving each of four stops on the circuit.
The trams are being managed by the operator of Christchurch's 2.5km tourist tramway, which is closed because of earthquake damage.
The only accident reported from that operation involved a pedestrian walking into a stationary tram while talking on a cellphone.
Advocates of a tramway extension from the waterfront to Western Springs are meanwhile gathering signatures to a petition calling on Parliament to consider whether legislation will be needed for such a project.