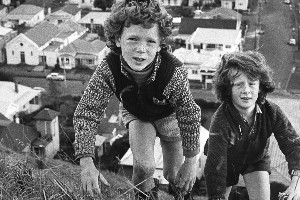 Tousle-haired brothers Jason and David McDonnell would often scramble up the steep sides of Devonport's Mt Victoria from their home in the street below.
To them the mountain was one big backyard with great views and plenty of grass to slide down.
More than 30 years later, Jason McDonnell recalls the day he and his younger brother David met a Herald photographer who took this picture.
It was August 1977. Jason was 8 and David 7. Both were rugged up against the chill but Jason laughs at their skinny legs sticking out of skimpy shorts. "We were obviously tougher in those days." These days Jason doesn't see much of his younger brother, who lives in Switzerland with his wife and their son and daughter.
Jason remembers heading up to the summit of Mt Victoria most days with David after getting home from Devonport Primary School.
"We'd go off and explore on our own. It was a safer time in those days."
Jason, who works for the ASB Bank, has never left the North Shore.
After primary school he and David went to Belmont Intermediate, then Takapuna Grammar School. Jason now lives in Glenfield with his wife, Tina, and their daughter, Sabrina, 3, and son William, 1. He has taken his family back to the summit to admire the view and says it's just the same except for the mushroom-shaped caps on the reservoir. "They've been painted red with white spots to look like toadstools."