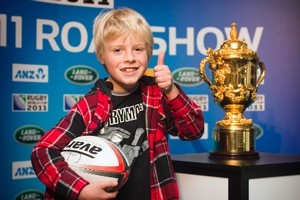 Almost 1000 children and rugby fans filled a stadium carpark yesterday to have their photos taken with the Webb Ellis Cup.
The Rugby World Cup roadshow, which has been taking the trophy around the country this month, arrived in Auckland for a session at North Harbour Stadium yesterday.
The promotion has pushed regions to "adopt a second team" - and at North Harbour Stadium, people were asked to get behind Argentina, France and South Africa.
Food and entertainment came from the cultures of the three countries, and included Argentine tango and sausages and French pastry.
But other countries were also represented, as children engaged in a sumo wrestling contest while an Indian dance promoted Diwali, a festival which will coincide with the cup.
Former All Black Alan Whetton attended the event - and was one of the few people authorised to hold the trophy.
Spokeswoman Sally Woodfield said the North Harbour Stadium roadshow had been a good day despite bouts of rain.
The roadshow continues t in Auckland, visiting Otara today, Orewa tomorrow and the Viaduct on Sunday.
In Remuera, about 270 people attended an anthems audition and workshop, which is assembling a choir to sing at the cup tournament.
Recordings of the 20 countries' anthems have also been made free to download here.