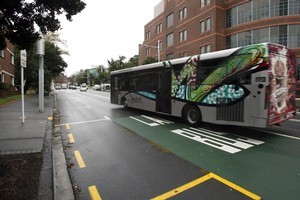 Auckland Transport has felt the public fury and hit the brakes on its bus-lane rules.
Only months after calling its enforcement of bus lanes "business as usual", the Auckland Council subsidiary says it will now exercise greater leniency and improve lane and road signs.
The backdown follows a Herald campaign over flaws in bus-lane policing and growing unease at the number of drivers breaching a ban on general traffic on Grafton Bridge between 7am and 7pm on weekdays - and being fined $150.
In the year to May, 14,253 bus-lane infringement notices worth about $2.1 million were issued to drivers using the 101-year-old bridge at the wrong time.
There are plans to improve the signs on Grafton Bridge by September - possibly changing to electronic signs and using larger ones - and to work with suppliers of GPS navigational devices to ensure these notify drivers of the weekday ban.
First-time offenders on all bus lanes will get off with a warning, as will other motorists who wrongly use a new bus lane during the first two months it's in operation.
Trials will take place at four sites of new signs and a broken green line to indicate that motorists can enter a bus lane within 50m of an intersection.
Auckland Transport is also urging lawmakers to reduce the cost of the bus-lane fine, although motorists were promised action on this by the former Auckland City Council 10 months ago.
It will argue that the $150 fine is out of line with the same $150 penalty for running a red light, an offence which could cause a crash.
Councillor Mike Lee, who chairs the council's transport committee and is an Auckland Transport board member, said the changes were an acknowledgment of the public's resentment at heavy-handed enforcement.
"What they are signalling is that this is about tackling congestion, and better public transport," he said.
"It is not about getting money out of the public."
A bus-lane review discussed by the transport board yesterday said that because Auckland's population was forecast to reach two million by 2035 and road-widening opportunities were largely limited, bus lanes were beneficial and necessary.