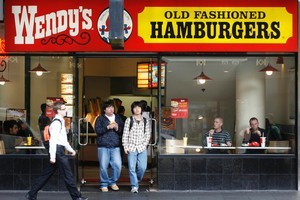 Queen St is turning into a strip of fast-food outlets, despite the best efforts of city planners and a costly facelift to make it New Zealand's premier retail and business district.
Over the 1km from from Britomart to Aotea Square, Queen St has dozens of fast-food outlets churning out burgers, kebabs, chicken nuggets and foot-long bread rolls.
There are also numerous 24-hour convenience stores and chain cafes and shops providing coffee, cookies, doughnuts and pre-packaged sandwiches.
The furthest anyone on Queen St can be away from fast food is about 100m - and the streets and lanes off the street Queen St have plenty of noodle bars, food courts and cheap eateries.
McDonald is opening a new store at Britomart in time for the Rugby World Cup - alongside, but not part of, Britomart developer Cooper and Company's "neighbourhood of buzzing restaurants and cool bars, designer boutiques and quirky art spaces".
It will be the fourth Golden Arches in or around Queen St, squeezed in beside four Burger Kings and four Subways.
Designer shops - including Gucci, Vuitton and Zenga - sit uncomfortably near many of the outlets.
Ludo Campbell-Reid, the Londoner hired five years ago as the city's "urban design champion", is embarrassed at the proliferation of fast-food outlets in Queen St.
Following a $43.5 million facelift a few years ago - and a further $43.4 million to turn several streets off Queen St into spaces where pedestrians and cars share the road - he said the goal was to restore the allure of Queen St as the country's premier retail and business district.
Mr Campbell-Reid said the number of fast-food outlets needed to be controlled, but acknowledged it was not simple.
A retail strategy for Queen St could help.
"We need higher quality shops down Queen St ... when you compare us to the high streets of Sydney and Melbourne we need to lift the game," he said.
Fight the Obesity Epidemic chairwoman Robyn Toomath said the "overload" of fast-food outlets was not a good look for the city.
"The chances of a visitor to Auckland finding something healthy are very slim."
The new McDonald's will be in the street level of the Mercure Hotel on the corner of Queen and Galway Streets.
McDonald's development director Brett Watson outlined a big growth strategy and how the global business viewed New Zealand as having untapped potential.
Jim Mann, a professor of human nutrition at the Otago School of Medicine, did not agree with McDonald's plans, but commended it on trying to provide healthy food.
"You're not going to stop them, let's not waste our breath. But McDonald's do fry their foods in healthier fat, they have salads, they have made a great start," he said.
The Health Sponsorship Council said the direct cost of obesity to the New Zealand health system was about $500 million each year.
Green Party MP Sue Kedgley said it was no wonder New Zealand had escalating obesity rates.
"We have created an environment where unhealthy food is far more accessible."