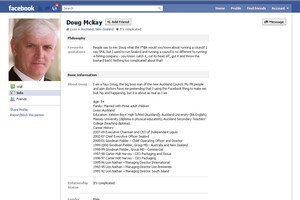 Auckland Council chief executive Doug McKay has been the subject of a hoax Facebook page, containing postings slagging off Mayor Len Brown, Deputy Mayor Penny Hulse and council staff.
Mr McKay was first made aware of the hoax page in April and tried to get it taken down, but Facebook would not say who was behind it or remove it.
When the Herald became aware of the page this week, Mr McKay made another approach to Facebook and it was removed.
"It is clearly nothing to do with me and a disgrace ... it's bloody bizarre and really quite scary," he said.
The postings referred to Mr Brown as "Loopy Len" and Waitakere councillor Penny Hulse, as a "Cheryl West wannabe", and talked about plans to downsize council "bludgers" (staff).
The information section on the page claimed to represent Mr McKay's philosophy, including political views.
"Whoever the mayor is. I'll be a lefty if Loopy Len wins or a righty if Mad Banksy does."
The postings cover the time around last October's local body elections. The last posting was on October 15.
"It looks like I'll be answering to Downtown Len Brown come Saturday. Best I hone up on my rap singing and face-slapping antics to keep his worship Len and his southside gangstas happy," one posting said.
Auckland Transition Agency executive chairman Mark Ford was labelled a "sly old silver fox" for getting two plum jobs out of the Super City - chief executive of Watercare and chairman of Auckland Transport; Local Government Minister Rodney Hide has a "big, shaven, round head", and former North Shore Mayor Andrew Williams is referred to as "Lemon Tree Williams" following allegations of urinating against a tree.
After being told about the page, Mr Brown said it had tickled his funny bone. Mr Banks said he knew nothing about the hoax.
HOAX COMMENTS
"Loopy Len" - Len Brown
"Mad Banksy" - John Banks
"Lemon Tree Williams" - Andrew Williams
"Big, shaven, round head" - Rodney Hide
"Cheryl West wannabe" - Penny Hulse
"Sly old silver fox" - Mark Ford