Sonny Bill Williams plans to return to Hamilton and help them in their bid to build a dynasty, writes Gregor Paul.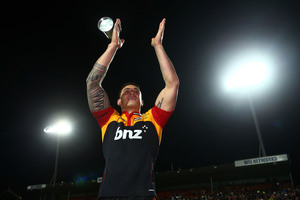 Sonny Bill Williams is set to give New Zealand rugby a massive boost by committing to play for the Chiefs in their next campaign.
The 19-test All Black has indicated to the New Zealand Rugby Union that, of all the career options in front of him, his preference is to return to Hamilton and help them in their bid to build a dynasty. He's also made it clear he would like to be part of the All Black squad that tries to defend their title at the 2015 World Cup and possibly even play sevens at the 2016 Olympics.
The NZRU have tabled a three-year deal and their preference would be for Williams to see out his NRL commitments with the Sydney Roosters, probably commit to the Kiwis at the Rugby League World Cup in October and November and then return to Hamilton to be available for the Chiefs' next campaign. It is understood the national body is prepared to be flexible, potentially willing to agree to Williams returning in 2015 as long as he signs a contract tying him into that well in advance.
But the indications are that Williams wants to come back to New Zealand sooner rather than later and that he is aware that his World Cup ambitions will be at risk if he leaves himself only one Super Rugby campaign to win back his test place.
"We have made Sonny and Khoder [Williams' agent Khoder Nasser] an offer," says NZRU chief executive Steve Tew. "We have been talking to them and the dialogue has been positive but we don't have any ink on paper. We would obviously love Sonny to come back and play rugby here and we have made that clear. It is up to Sonny and Khoder now."
The NZRU are wary of getting ahead of themselves but in their experience, despite the perception of Williams' management team being prone to playing parties off against each other, Nasser is not one to waste time or mislead.
The wider team that looks after Williams have had a clear ambition since he infamously walked out of the Bulldogs in 2008 - they want him to be recognised as the world's greatest cross-code athlete and to be heavyweight boxing champion of the world.
He has collected an impressive number of trinkets to date: he won an NRL grand final with the Bulldogs in 2004, played in the Amlin Challenge Cup final with Toulon, won Super Rugby with the Chiefs and the World Cup with the All Blacks, and is the reigning New Zealand heavyweight boxing champion.
The Roosters are a reasonable prospect to win the NRL this year and Williams would do much to strengthen a Chiefs side that has won consecutive titles and an All Black side that will be well equipped to make a strong defence in 2015. If he could help the Kiwis win the World Cup later this year and make it to the Olympics in 2016 (where New Zealand are fancied to win the sevens gold medal), he would have an impressive claim to be the world's best cross-code athlete. However, there are thought to be other factors driving Williams back to Hamilton and rugby. He found a level of contentment and belonging with the Chiefs that he hadn't felt since his early days with the Bulldogs. He made a strong friendship with Liam Messam, had great respect for the coaching team and felt settled and relaxed in the city.
As a sign of where his heart lies, he attended the last Chiefs round-robin game against the Blues at Eden Park and celebrated with his former team-mates. He's believed to have mentioned then that he was hankering for a return - that the media scrutiny and public attention he was under in Sydney had become a bore and restrictive to his everyday life.
Williams maintained when he left the Chiefs last year that he would be back - that his decision to join the Sydney Roosters was made five years previously on a handshake deal that he felt he had to honour. But despite his assurances, it always felt more of an 'if' he would return to rugby rather than a 'when'.
Now everyone in New Zealand rugby is planning on Williams being here in 2014.