First five-eighths saw possibilities with Blues but old ties prove stronger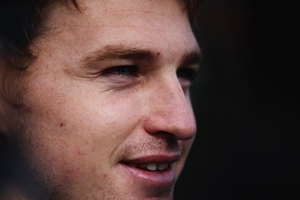 There was a lot of pressure and expectation surrounding a kid who recently turned 22 and has only eight test caps to his name.
But such is the demand for a quality first-five on the Super rugby scene that the Hurricanes and Blues were more than eager to ink the All Blacks' third-string pivot to a contract.
The Hurricanes always seemed the favourite, given the historical links, but the Blues had a compelling package headlined by a crack coaching team including two knights and a bloke called "Mick the Kick".
Eventually, Beauden Barrett decided to stick with the Hurricanes when he confirmed yesterday he would return to the wet and windy Rugby League Park in Newtown - a training base he has called home for the past two years.
Barrett felt there was too much potential in the Hurricanes to leave something that has the tools to be great; the side just needs some polish.
The Taranaki lad wouldn't elaborate on too many of the specifics but after the team's season review he said he would return on the proviso a few changes were made.
"It's mainly just changing our week structure and getting the most out of the players," Barrett said. "So it might mean a little bit more training but that's basically it; it's nothing more than that.
"I know this team's going to be a lot better next year because of these changes that will happen and it's pretty exciting because of who we've got in the franchise already. The thing is, everyone's buying into it, it's not just me saying it, it's the senior players."
Barrett, who first played for the Hurricanes as a 19-year-old in 2011, said the Blues made a compelling offer.
The Auckland-based franchise, which hasn't had a top-quality No10 since the glory days of Carlos Spencer, also chased Barrett at the end of 2010, but were knocked back for a second time.
"They're a professional outfit up there and they've got a very good coaching staff and it was a pretty good package they put together. Obviously with [Sir] Graham Henry up there, he was pretty confident he could turn me into a world-class 10 and Mick Byrne, his kicking [expertise] - that would have been a big factor as well."
Now Barrett will put his faith in Mark Hammett and Alama Ieremia to guide him on his journey to being a top-drawer five-eighths.
Barrett met the coaches and franchise bigwigs recently and said they provided a clear direction for where the Hurricanes are heading.
"They never really seemed to be too desperate [to keep me]. They didn't push too many loyalty buttons, they know how I feel about the franchise and stuff like that, so I think they were very good."
The timing of Barrett's announcement is slightly curious given Benji Marshall's move to the Blues has been all but confirmed this week, but Barrett said that wasn't a factor and if anything it had worked in his favour because it took the heat off him.
Barrett said his priority was sorting out his franchise commitments before the All Blacks got into full swing.
Returning only for a one-year deal may raise eyebrows, but as Barrett pointed out, the Hurricanes' coaching staff are signed only until the end of the 2014 season so there's little point in chaining yourself to a team who may have a different ringmaster soon.
The Hurricanes are a team that Barrett's father, Kevin, played for in 1997 and 1998 and are also a side the young first-five hasn't missed a game for in the past two seasons.
It's a remarkable run of durability given he plays big minutes every week and Hammett said they were pleased to retain his services.
"We like everything that Beauden stands for and it's a lot more than just his rugby skills," Hammett said. "So we've seen him develop over many years now to the point where we've developed him into an All Black. But he's still got a lot of growth and that's where we are challenging ourselves and Beauden; how we put the best resources around him and the team to ultimately win championships."
- APNZ