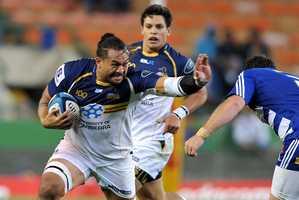 Brumbies coach Jake White says he will look into extending the loan of Wallaby great George Smith from Japanese club Suntory.
Smith, on a three-month loan from Suntory during their off-season break, has been a revelation for the Brumbies after the season-ending injury to fellow openside flanker David Pocock.
Despite missing the opening two rounds, the 32-year-old ex-international is only behind Reds flanker Liam Gill for the most pilfers and turnovers forced in the entire competition after six rounds.
White said he would like to keep Smith in the side and would speak to whoever he had to in order to find out if it was possible, before adding that he did not want to rush the process.
"I think it would be a bit unfair for me to literally after two or three weeks start phoning and say, 'How long can I have him for?'
"They [Suntory] have been really kind by loaning him to us. So what I'll do is just wait and see how the season pans out."
Meanwhile, standout fullback Jesse Mogg and halfback Nic White are expected to return from injury to bolster a battered and bruised lineup this weekend against the Bulls after the Brumbies' first defeat of the season.
The Brumbies lost to the Stormers 35-22 in Cape Town on Sunday and will take on their third South African franchise in as many weeks at Canberra Stadium on Saturday night.
While the Brumbies must overcome the jetlag of their trip back from South Africa, the Bulls have only to travel from Sydney, where they lost narrowly to the Waratahs on Sunday.
White said he was looking forward to having the long-range kicking abilities of Mogg and halfback White for the Bulls as it was an area of the Brumbies' game that was found wanting against the Stormers.
"Both Jesse and Nic are very important in how we get from our D and C zone into the A zone," White said. "They recovered quite nicely in their week off so I'm hoping, all things being equal, they'll be available for selection."
- AAP