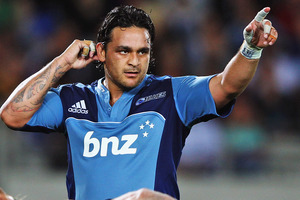 All Black halfback Piri Weepu is in good shape upon his arrival at Blues pre-season training yesterday.
The 29-year-old has completed a one-off fitness session with the Blues squad ahead of his full-time return next week.
Weepu's more than 10 kilograms lighter than he was when he first showed up a year ago and has told theblues.co.nz he's feeling good.
"I thought I should keep up with things this year and try and make sure I start a lot better than how I was shape-wise last year," Weepu said.
"I've been trying to run the roads and run up some mountains and do anything I can that's cardio along with a little bit of weights in between spending some quality time with my family."
He says he's weighing about the same as he was during last year's end of year tour.
"I'd like to say I'm in pretty good nick," he said.
"I'm probably around the same as I was on the end of year tour last year so I've been trying to keep everything down and make sure that my numbers are right this time around. I'm pretty excited about it because I'm not as heavy as I was last year when I first came into camp so it's pretty good."
Blues head coach Sir John Kirwan was thrilled to see his starting halfback return in shape and was eager to put the story about his condition to rest.
"He doesn't have to be here firstly which is fantastic and this story is officially dead - he is fit, he is well and he is raring to go," Kirwan said.
"He's come back in and his body weight is good and his skin folds are good. He's not ready to play yet but he's been on holiday and he's done a fantastic job so we're excited to see him.
"It's good to have him in here training with the boys so it's a done deal, talk about something else please."
With a new coaching setup, a new team and a fresh air of excitement and optimism in the team, Weepu said he couldn't wait to get back into training.
"It's a new year, a new start and new beginnings so it's just trying to make sure that I do everything possible this time around to make the most of my opportunities.
"Obviously there are two young boys (halfbacks Jamison Gibson-Park and Bryn Hall) that are in the team so I'll be trying to help them out and I'm pretty sure they'll be nipping at my heels but if not I'll be keeping them honest as well.
"Coming back and looking at the shape the boys are in and how mobile they are, especially the big boys like Ofa that can...get around really well, all that hard work has been paying off so hopefully with all that young talent that we've got we can turn some heads this year."
Weepu officially return to training with the Blues on January 30. The Blues' first pre-season game is in Queensland against the Reds next weekend.
- nzherald.co.nz/Newstalk ZB