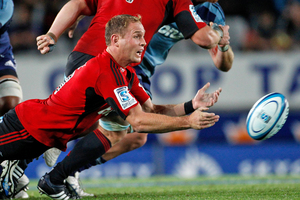 The Crusaders have reported a small operating surplus of $87,147 for this year.
Chairman Murray Ellis and chief executive Hamish Riach said the surplus was a significant turnaround from the financial performance of 2011, which saw the Crusaders Trust record a financial loss as a result of Canterbury's devastating earthquakes.
"We are very proud of this result, particularly given the ongoing difficulties that we are dealing with due to the earthquakes," Ellis said.
"We are still working through our business interruption insurance claim from last year, and the loss of the original AMI Stadium in the earthquakes will continue to hit our bottom line for some time due to the reduced capacity for ticket sales and other costs associated with the new stadium.
"In saying that, if it wasn't for the new AMI Stadium at Addington, this year's surplus would not have been possible.
We are extremely grateful to the Government for driving this project and allowing our team to once again play at home in front of Christchurch and Canterbury fans," he said.
Riach said the ability to play at home this year was the single biggest factor contributing to the turnaround in the Crusaders' financial performance.
"If we subtract the extraordinarily high revenue from the match played in Twickenham in 2011, we grew match revenue by approximately 25 per cent this year. We also achieved a 136 per cent increase in sponsorship this year and we are extremely grateful to all of our sponsors for their vital support," he said.
"Our pleasing financial result allows us to fulfil some of our obligations, such as an additional payment to the Christchurch Stadium Trust as part of our agreement with the Government in getting the new stadium built. We will be making a $87,147 payment to the Trust, which is over and above the agreed rental amount for AMI Stadium (Addington).
"The accounts also show further revenue of over $500,000 from our Business Interruption Insurance claim and that will be used to repay all but $200,000 of our loan from the NZRU," Mr Riach said.
Ellis said the new licence to run the Crusaders announced yesterday will further add to the financial stability and commercial opportunities for the Crusaders.
- APNZ