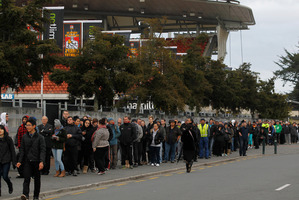 A Hamilton bar and restaurant owner will stage a fan zone as planned for Saturday's Super Rugby final between the Chiefs and the Sharks.
Phoenix Group director Jason Macklow will set up a giant TV screen on his property after other hospitality businesses sought an injunction to prevent the closure of Hood St.
Mr Macklow had applied to Hamilton City Council for the road closure to create a fan zone similar to one on the central business street during the Rugby World Cup.
But yesterday the application was pulled before councillors could debate it because a group of restaurant owners in Hood St complained they had not been consulted and would lose money if the road was closed.
The Lawrenson Group director John Lawrenson, who was against the closure, said in the past closing the road had a negative effect on hospitality businesses on the street.
Mr Lawrenson, who owns about 12 bars and restaurants throughout the city, said up to 92 per cent of customers to restaurants such as Cullens, Coffee and Food Establishment and Thai Village, stayed away when the road was turned into a party street.
"People stay away from the south end of town because they see it as a party zone and they can't get parks."
He said he wasn't against a fan zone and recommended one could be set up in the middle of the city.
"Garden Place is the best place for things like this to happen and it would be great for the city if we could start a trend of events like this being held in that area."
Mr Lawrenson later offered to pay half the set up cost of a fan zone there.
But Mr Macklow said the Chiefs first ever home final had the potential to be bigger than the Rugby World Cup and a designated fan zone provided a focal point for fans, media and visitors.
It was also a way of encouraging people into the city who had missed out on tickets and might otherwise stay home.
He and business partner Darrel Hadley decided to push on with plans to pay $13,000 to install an 8 metre wide screen beside House Bar so that Hamilton could offer the fan zone.
"I want to live in a city that actually celebrates these things. The city needs to get behind these sorts of events and if we can't get our act together to embrace things like this then I think that's a huge shame."
Mr Macklow, whose bars in Hood St include House, CBD and Rodeo Rodeo, cited "professional jealousy" as the reason behind the injunction.
"It would be a shame if this city gets bullied around."