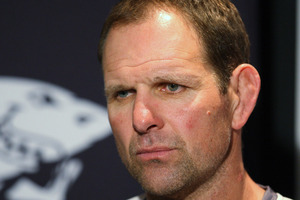 To win the Super Rugby final against the Chiefs the Sharks have to beat the three conference winners away on consecutive weekends but coach John Plumtree is confident it can happen and he isn't the only one.
New Zealander Plumtree said the Sharks had taken plenty from the first meeting between the teams this season, an 18-12 victory by the Chiefs in Durban on April 22.
"When we played them in Durban we put in a defensive plan for them and it was quite good because it was only a late try that sealed that game for them. I think we are playing better than we were then so if we can get up physically for this game then anything can happen," Plumtree told South African media.
The Sharks, who have stopped over in Sydney on their way to Hamilton, will be missing midfielder Tim Whitehead, who broke a hand against the Stormers in last weekend's semifinal in Cape Town, but that is probably the least of their worries.
The arduous travel routine will surely be the biggest factor but optimism reigns among a team who think they can make history at Waikato Stadium on Saturday night. They have also been backed by Stormers captain Jean de Villiers following his side's defeat at the hands of Plumtree's team.
"The Sharks are on a roll, and if there is a team you won't bet against now, it is them," said de Villiers told South Africa's Business Day.
"It will be fantastic for them if they can go on to win it. They've showed they can overcome the travelling, and it may be tough for them, but I think SA should get behind them. They have a great chance of winning it."
Bulls forwards coach Johann van Graan added: "They showed in the last two weeks that they are not influenced by public sentiment and their forwards have been playing outstanding rugby.
"With guys like Willem [Alberts] playing at lock and Bismarck [du Plessis] playing a fetching role, one could say they are playing with five loose forwards, and Ryan Kankowski has been doing well in the lineouts.
"Obviously their draining travel schedule will result in the final being an even greater test for them, but I think they have a good chance of winning," he said.
Adding to the Sharks' difficulties is the fact that the match today was officially sold out within two hours of tickets going on general sale. The vast majority of those 25,000 supporters will be cheering for the Chiefs to win their first title.
In their favour is the fact that Chiefs captain and lock Craig Clarke remains in doubt due to a knee injury suffered in last week's semifinal win over the Crusaders.
- APNZ