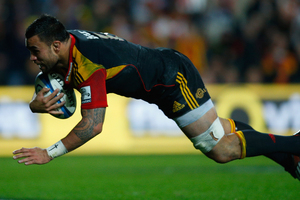 Chiefs 20
Crusaders 17
The Chiefs are into their second Super Rugby final after hanging on for a thrilling semifinal victory over the Crusaders tonight.
They will be watching Sunday morning's other semifinal between the Stormers and Sharks with interest because on this form they can comfortably go all the way.
If the Stormers win, the Chiefs will fancy their chances in Cape Town. A Sharks victory represents a Waikato Stadium final on Saturday. If that is the case you can etch their names into the cup now.
"We're just rapt to still be in the race,'' coach Dave Rennie said.
"It would be great to play here but if we have to go to Africa, we have to go to Africa.''
The Crusaders have got out of some scrapes during their illustrious history, but this was too much, although, for all their mistakes and missed tackles they could have sent the match into extra-time had Dan Carter kicked a penalty from 45m with four minutes remaining.
They missed far too many tackles to deserve to be within touching distance, and although they trailed only 17-11 at halftime in front of a sold-out Waikato Stadium, it might as well have been by 15.
Tawera Kerr-Barlow was at the centre of their woes _ the Chiefs halfback either setting up his outsides with crisp deliveries, running himself, or making opposite Andy Ellis' life a misery when the Crusaders were in possession.
At one stage in the first half the Crusaders were on the wrong end of a 10-0 missed tackle count. No team can expect to stay in touch when they are defending like that.
The Chiefs have plenty of runners to exploit those lapses _ Liam Messam in the forwards and Sonny Bill Williams further wide were the main destroyers.
They also had a far harder edge to their play compared to the final two round-robin games of the season _ losses to the Crusaders and Hurricanes.
There was a fair bit of pushing and shoving throughout in the sometimes spiteful match, with Wyatt Crockett and Kane Thompson swapping punches at the end of the first half, an incident put on report by referee Craig Joubert.
"We certainly knew we had to be better in that area,'' captain Craig Clarke said.
"We were more confrontational, we couldn't take a backward step.''
"We missed far too many tackles at critical times and then we came back but couldn't executive,'' coach Todd Blackadder said.
Blackadder's men really only stood a chance if they could disrupt the Chiefs' ball like they did earlier in the month during their 28-21 victory.
They couldn't, although they improved massively in the second half, and they also severely missed No8 Kieran Read, with lock Luke Romano adding to the problems when leaving the field clutching his shoulder after only 16 minutes.
The Chiefs took a stranglehold on the match in the first half but a Ryan Crotty try just before halftime, when he ghosted between two tight forwards, gave the Crusaders hope.
It squeezed the score to 17-11 but the Chiefs had too much firepower to be unduly concerned.
Sona Taumalolo scored his ninth try of the season thanks to some help from the TMO, just to continue a theme this competition, but there was no doubt about Messam's, the loose forward running on to a Williams offload.
After the break the Crusaders rallied, as they always would. A Carter penalty narrowed the gap to 17-14.
Then, near farce. A kickable Chiefs penalty was reversed due to some dodgy Kerr-Barlow work at a ruck, and Carter, looking to ease the pressure, kicked the ball dead rather than into touch. From the resulting scrum at the original spot, a Chiefs penalty, kicked by Aaron Cruden.
Although the Crusaders were down by only six points, they played like they were already out. Too many risks were taken and the inevitable mistakes were gleefully picked up by the Chiefs.
Another long-range Cruden penalty attempt from halfway went desperately close _ hitting the bar and going under.
Amazingly, Carter had a chance to tie the match with four minutes left. However, his attempt from 45m was well short. He set himself for a drop goal as the hooter went, but that never eventuated.
The Crusaders have all the history _ this was their 26th playoff match _ but the Chiefs rightly showed no respect for that or their vaunted opposites. It was only their fourth playoff match and the second success at this stage after their 2009 victory over the Hurricanes in Hamilton.
Now they are out to create a little more of their own.
Chiefs 20 (Aaron Cruden 2 cons, 2 pens; Sona Taumalolo, Liam Messam tries)
Crusaders 17 (Dan Carter 4 pens; Ryan Crotty try)
- APNZ