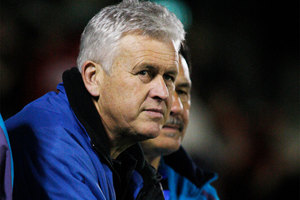 Blues assistant coach Bryce Woodward may have to look for another job after Pat Lam was shown the door by the Auckland Rugby Union.
The union yesterday named former All Black John Kirwan as the Blues coach after a season in which the team won only three games under Lam.
Woodward, appointed as Lam's assistant at the end of 2010, was reluctant to talk about his future.
"My contract is linked with Pat's and whether I stay or go is at the discretion of the NZRU, Auckland Rugby Union and John Kirwan and that decision will be made at the end of August," he said.
His and Lam's contracts run through until the end of 2013, though Lam has already been sacked.
Woodward said he had been thinking about his future but did not wish to comment on Kirwan's appointment or whether he wanted to work alongside him.
Northland rugby coach Adrian Ferris felt for Lam, but welcomed Kirwan's appointment and hoped the Blues could improve next year: "John's a coach with a high level of experience."
Ferris said Northland players looked forward to impressing Kirwan, with a view to Super Rugby selection.
Over the years, some Northlanders may have been disappointed at missing Super Rugby selection, Ferris said, but if they continued to work hard, opportunities would come.
Lam yesterday urged the franchise to support Kirwan, in an emotional final press conference in which he said he had "taken the final hit". Lam said he felt that this year had been "the biggest war ever".
For more articles from this region, go to Northern Advocate