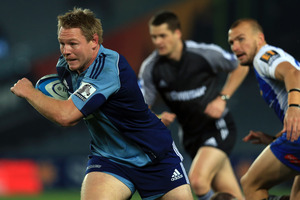 Blues 32
Force 9
As the sparse crowd funnelled out of Eden Park last night, predictably unfulfilled by yet more frugal rugby offerings from the Blues, it was questionable how many will be back next year.
The scoreline gives the impression that it was a commanding performance: a dominant night for the Blues where they finally cut loose and found their rhythm. Hardly. They were mostly disjointed and pedestrian with the odd blast of cohesion.
This was the grand farewell on home soil for the Blues in 2012 and while zillions of their squad won't be seen again, there wasn't a wet eye in the house. It's hard to be overly excited when the 14th placed team is taking on the 13th in the penultimate round. It would be pushing it to say they were playing for pride - that walked out the door long ago. Bragging rights? Like it really matters if you are 14th or 13th.
Playing for contracts next year? Not even, just last week Isaia Toeava and Tevita Mailau confirmed they would be joining Rudi Wulf, Benson Stanley, Lachie Munro, Jerome Kaino and Chris Lowrey offshore. Brad Mika isn't coming back either and Piri Weepu, Ma'a Nonu, Alby Mathewson are undecided and a handful of others are not likely to be wanted.
Perhaps the real business of the night was taking place in a corporate box somewhere - the Blues' executive team quizzing their Force compatriots about who they are lining up as coach next year.
Both sides have already announced the head coaches with whom they began the season will not be required for next and a host of global candidates are believed to have applied for both vacant posts.
Hell, there had to be some higher purpose to the evening than events on the field. A Russian winter would have been less painful - easier to endure certainly.
There were lots of scrums yet no good scrummaging. There was lots of passing but only half as much catching. There was ample perspiration but not a shred of inspiration and in this digital age, surely 80 mainly awful minutes such as this can be made to disappear into the ether? Wiped from the hard drive so there is no trace?
If storage space has to be provided then it should be reserved for the five minute patch midway through the second half when the Blues scored two tries in quick succession.
And for the handful of Blues' youngsters who alluded to their being some kind of better future?
Steven Luatua thundered about again and even bashed over the line for a try while Charles Piutau was reminiscent of a young Mils Muliaina at fullback such was his pace, quick feet and ability to take off from deep.
He scored a try to cap an excellent debut.
Francis Sailii was lively again and maybe the most heartening development was Nonu beginning to look like his old self.
Blues 32 (S. Luatua, C. Piutau, M. Nonu, L. Braid tries; L. Munro 3 cons, 2 pens) Force 9 (B. Seymour 3 pens).