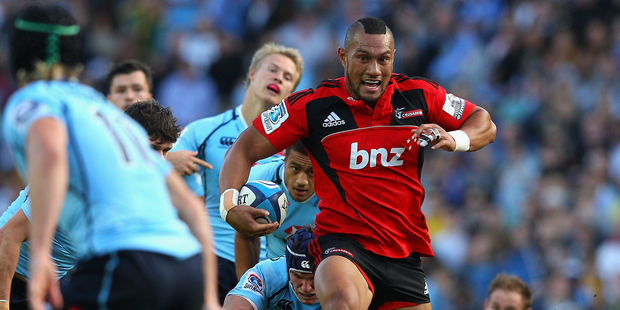 Nothing motivates players quite like selection snubs which is why Robbie Fruean is planning something special against the Highlanders tomorrow night.
The Crusaders centre has again been overlooked for the All Blacks despite glimpses of outstanding form in this season's Super Rugby competition. Playing opposite Fruean in the number 13 jersey at Christchurch Stadium tomorrow night is one Tamati Ellison, recalled to the national squad after a stint playing in Japan.
With the man inside him at second-five, Ryan Crotty, also keen to prove a point against his old mate Phil Burleigh, the result could be fireworks in the crucial midfield area.
"There's a point to prove," agreed Crotty, who was outstanding against the Blues two weeks ago following a frustrating spell on the sidelines. "I know Robbie really wants to go out there and show his stuff, especially against Tarms (Ellison), who is in the All Blacks. Myself, it's an awesome match-up against Phil.
I've played a lot of rugby growing up with Burls (Burleigh), we're both out of the New Brighton club. Clubmates going at it, it will be awesome - we're good family friends as well. His parents and mine will probably get together and watch the game."
Former Canterbury player Burleigh has enjoyed plenty of headlines after his switch from the Chiefs to the Highlanders in pre-season and that could be another reason for Crotty, who has flown under the radar so far, to feel the need to make a statement.
Injuries have put the brakes on Crotty's season, and not just his own. In a pre-season match against the Highlanders in Greymouth, Crotty scored three first-half tries before limping off, an injury which kept him out of rugby until the round five victory over the Cheetahs in Christchurch.
However, he soon found himself another casualty of Carter's niggling groin injury. Carter's inability to practice his goalkicking forced him to shift to second-five, with Tom Taylor's accurate boot rubber-stamping his place at first-five.
Talked of as an All Blacks contender two years ago, Crotty had the wind taken from his sails by the arrival at Canterbury and the Crusaders of Sonny Bill Williams.
His injury and non-selection meant he couldn't capitalise on Williams' move to the Chiefs but he finally got his chance in a start against the Blues and was outstanding. He constantly broke the defensive line and his option-taking was excellent despite a lack of game-time.
"It was really satisfying to get an opportunity and really grab it with both hands," he said. "I was pleased but you're only as good as your last game and we've got a good test against the Highlanders this weekend. I'll be looking to pick up exactly where I left off against the Blues a couple of weeks ago.
"Me and Robbie, we just want to be going forward for the boys, get us on the front foot, carry well, support our back three well and if we do our core jobs well it will hold us in good stead."
Crotty is off contract with the Crusaders after this season but has signed with Canterbury for two more years. It is understood that Crusaders' management were quick to assure him that a recent newspaper report linking All Blacks and Blues midfielder Ma'a Nonu with the franchise was erroneous.
He said this Crusaders season was his main focus and now that he is back in the No12 jersey he has the chance to build on some encouraging form.
He said of his time on the reserves bench: "It's doing what's best for the team but now I've got that opportunity I'm not looking to give that 12 jersey up."

- APNZ