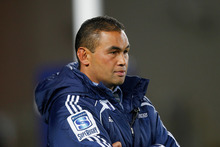 The flashback is not a fond memory for the Blues. Not when they have to face those demons in their return Super 15 match with the Chiefs.
Their initial duel in round two - way back at the start of March - hinted at the ordeals that have dissolved the Blues' campaign.
That recollection is still raw for coach Pat Lam as he surveys his battered squad before Saturday's repeat clash at North Harbour Stadium.
The Blues were savaged 29-14 by the Chiefs in Hamilton in a performance which created an enduring anxiety.
"There was a 15-20 minute spell there where we got blown away," Lam said, "that was probably the start of a lot of things, too."
It has been a torrid three months since, with only two wins and a search underway for next year's coach to head up a revamped structure.
Half the Blues side which began that match will miss the return game, while first five-eighth Gareth Anscombe is in a moonboot, on crutches and will not play for six weeks.
His place as backline director will revert to Michael Hobbs while Lam will wait until later in the week to assess how best to use his All Blacks returning from the national training camp at Wellington.
They had missed much of the match planning but filled in well from the bench against the Highlanders and Lam wondered whether that arrangement might suit again on Saturday when he hoped to start most of those who had brought some last game energy.
The Blues were at home but they would be underdogs against a Chiefs side who had lost only twice this season and were leading the New Zealand conference.
Once that match is done, the Blues will head into the competition's month hibernation. They will lose some players to the All Blacks, Chris Lowrey to Samoa and Tevita Mailau to Tonga and have the rest assessed by the medical staff and put on individual fitness or recovery programmes. They may lose a few players to the North-South game on June 10 but have no practice matches scheduled during their tournament lull.
They were coming off a nine-game stretch without a bye and some of the squad would benefit from a break.
The Blues were handed rugby lessons by the Chiefs in their first clash and Lam felt his franchise could also learn from their organisation.
They were well resourced with four fulltime coaches - Dave Rennie, Tom Coventry, Wayne Smith and Andrew Strawbridge - and were getting the best out of their players, while Lam only had Bryce Woodward as a fulltime assistant.
Lam felt like a schoolteacher who was being asked to look after a high number of students instead of giving stronger, more personal tuition to a smaller number of pupils and he hoped the Blues would alter that structure next season. "It may be too late for myself but that's the way it is," Lam said in a rare moment of introspection.
The season was longer and there were young squad members who needed more tuition. Lam loved the work but it was expanding.
The Blues board was reviewing all aspects of the organisation and how they could achieve progress.
"I hope we will see where this place should be," Lam added.
By Wynne Gray

Email

Wynne