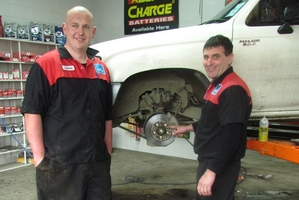 "It was a real shock to have been nominated," says Kevan Old, owner/operator of Central Taranaki Automotive, Stratford's only 2013 Top Shop winner.
Kevan's wife Wendy adds, "We didn't know a lot about the awards at first, especially since we were one of the few automotive businesses to ever be nominated."
Kevan and Wendy say they are humbled to have won the Westpac Taranaki Chamber of Commerce Business Excellence Central Top Shop, particularly as they only took over ownership in December 2012, though Kevan has been part of the business since 1989.
It's the small things that have caught the public's attention.
"A big focus for us is customer service," says Kevan, "which is why we gave the whole place a make-over, with a new paint job inside and out to give it a new look."
Wendy adds that installing an office/waiting area for customers has given the place a lift.
Kevan would like to acknowledge Central Taranaki Automotive's reps who "were fantastic" as well as the significant support from the motoring community.
"To even make it to the finalist top 10 category was amazing, and then to the top five, the support we received was overwhelming," he says.
Wendy adds that appreciation is also extended to the business's loyal client base: "Our customers are a big part of who we are and it's a group that's rapidly growing, we have new people walk into the shop every day."
"We must be doing something right," says Kevan, the first recipient of Best Service Person - Male at Stratford's inaugural Romeo awards.
The couple would love to be part of the awards process again: "We had such a fabulous evening at the award ceremony." However, their main goal for the coming year is to keep up their high standards and look after their customers. Kevan says this wouldn't be possible without the team efforts of their workers, Chris Waite and Jason Pepper: "Captains are only as good as their teams."