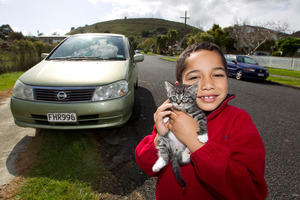 Tina Dawber reckons she hated cats before a kitten hitched a ride on the Auckland motorway in the undercarriage of her people-mover.
Nine days ago Mrs Dawber and her children Heleni, 6, and Ocean, 4, visited her brother in Clendon where the children played with a litter of kittens.
On the ride home to Mangere Bridge she heard a mewling sound.
"We all started to panic ... I started slowing down the car but we couldn't find anything."
She took the Southwestern Motorway home, 13km trip.
Five hours later she asked her husband Alex, who'd returned home from work, to check the car again.
He found a grey and white tabby sitting in a pocket by the axle.
"We couldn't call him Front Suspension, so we thought Axle would do," he joked.
His wife said there was no question the family would be adopting the cat, which was about a month old.
"I hated cats and then I saw Axle's face and I fell in love. I think he was meant to be with us," she said.
The kitten hasn't given up his risky habits - he likes crawling up on to tyres, she said.
Heleni, 6, is smitten with the kitten.
"It's a nice and smart cat because he wasn't on the bit that spins."
And she says Axle is settling in to his new home.
"He was a bit of a scaredy cat before; not any more, he's fun."