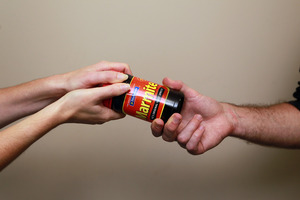 Unless you've been living under a rock - or possibly overseas, you'll know Marmite is in short supply. Photo / Doug Sherring
There has been a reprieve for diehard Marmite fans who are itching to get their fix - in the South Island at least.
About a hundred individual serves of Marmite have been found at Visions Restaurant in Christchurch and are being laid out on the tables today.
Earthquake damage to Sanitarium's Christchurch factory has forced production of the popular breakfast spread to be suspended for several months.
It has made Marmite as scarce as hens' teeth.
Restaurant manager Jason Newton says the sachets were found tucked away in the back.
"Thought it would be a great idea to actually do a bit of a promo and send that out and let our regular customers know they can stop worrying that there's no Marmite left.''
A random jar of Marmite turned up on the shelves of a dairy in down town Auckland last week.