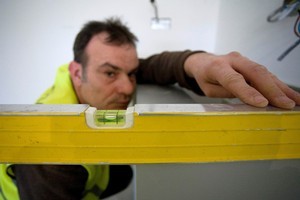 Fletcher Building's share price has shown signs of levelling out after falling sharply since April. The stock went into steep retreat as market analysts readjusted their expectations about the timing of benefits from the rebuilding of Christchurch and from the company's $1.2 billion acquisition of Australia's Crane Group in May.
The share price is well short of its 52-week high of $9.53, set in April. It closed yesterday at $8.13. Some analysts had become too optimistic in their forecasts for the group and a number of brokers in Australia and New Zealand have adjusted their recommendations.
Forsyth Barr's Rob Mercer, in a research note, said Fletcher Building's near term earnings were expected to increase but at a slower pace than its previous forecasts due to delays surrounding the rebuilding of Christchurch and the ongoing weakness in NZ building activity.
"Despite lowering our forecasts, we have upgraded our recommendation from 'reduce' to 'accumulate', due to the recent pull-back in Fletcher Building's share price," he said.
Forsyth Barr has cut its 2010-11 net profit forecast for Fletcher Building by 5.2 per cent to to $325.9 million.
While Fletcher Building waits for Christchurch to stop shaking, the situation in Australia - which is responsible for about 45 per cent of its income - is looking less than buoyant.
Australia's construction industry contracted in June with falls in new orders and activity across the sector, according to the Australian Industry Group. The company also has the problem of its huge Pink Batts stockpile in Australia. Fletcher Building is thinking about taking legal action against the Australian Government over the unexpected axing of its insulation scheme last year, which left the main players with the stockpile.
MURDOCH DOWNUNDER
The New Zealand and Australian assets of the man in the hotseat at the moment, Rupert Murdoch, are trucking on, seemingly oblivious to the turmoil going on at their parent company. Sky Network TV, which is 43.65 per cent owned by News Ltd, closed yesterday at $5.80 - not far off its 52-week high of $5.92.
News Ltd is no longer involved in New Zealand publishing, but its unit, Nationwide News, is still an active publisher in Australia, with titles such as Sydney's Daily Telegraph, the Australian, and the Melbourne Herald Sun.
Murdoch's dream of controlling Britain's BSkyB turned to custard yesterday as he withdrew his bid for the broadcasting giant in the wake of the News of the World phone-tapping scandal.
THE BIG SALE
Deutsche Bank and Craigs Investment Partners have been appointed as advisers for the job of preparing state-owned enterprises for partial privatisation.
Deutsche Bank's head of global capital markets, Ivor Dunbar, recently offered some insight into how the bank viewed the possible privatisations. "There is no question, if you provide a big liquidity event, and that encourages more people to focus on investing in stocks that are quoted on the New Zealand stock exchange, then it will reduce the cost of capital for other New Zealand companies to come to the market, so, yes, I would expect that to be a catalyst," Dunbar said.
The Government plans to sell as much as 49 per cent of Meridian, Genesis, Mighty River and Solid Energy and reduce its holding in Air New Zealand, which currently sits at about 75 per cent.
BLUE LINES
Australasian printing company Blue Star Group has negotiated $25 million in new funding lines and received approval for an extension of its near term debt. The company's main shareholders have agreed to extend the maturity of the senior debt to 2015. A bond holders' meeting is scheduled for August 10 to vote on the proposal. Blue Star has $105 million in listed bonds. The company suspended cash payment of interest on the bonds from September 2009 until its parent was in compliance with banking covenants.
CHRISTCHURCH BOND
Westpac has launched a "red and black" bond, which could help raise millions of dollars for the rebuilding of Christchurch.
The bond will have a five-year term and a 5.8 per cent a year interest rate, of which 0.5 per cent will be donated to the Christchurch Earthquake Appeal Trust.
The offer will be open for three weeks from next Thursday.
The chief executive of Westpac Institutional Bank, David McLean, said the bond was an investment opportunity with the added benefit of helping the people of Christchurch.