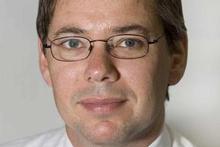 While there is still considerable uncertainty about the sustainability of economic and market upswings, the proof may lie in the pudding ... as well as the appetiser and the main course.
"Corporate catering, regarded as a bellwether of business confidence, is returning to pre-recessionary levels," said Auckland event specialists Urban Gourmet in a statement dished up this week.
Urban Gourmet director Anne Doughty said her company saw the beginnings of a resurgence in activity during July and August "but now corporate business has truly picked up".
But much as the Reserve Bank and Treasury have reservations about the composition of the recovery, Urban Gourmet says the upswing in corporate dining has a different flavour to that seen previously.
"Cocktail and fork food are more popular now, but I think this is about a change in the way companies entertain rather than a budgetary thing.
"There is a greater focus on productive networking which you can't get if you are sitting at a table for six all night."
Nevertheless, there has been an upsurge in bookings for seated dinners, "which is a real sign that confidence is coming back to business".
This information had one of Stock Takes' colleagues salivating.
By and large, he said, corporate hospitality extended to journalists over recent months has been limited to muffins and coffee.
BEHIND PYNE
You'd like to think confidence in the company's future is behind Pyne Gould Corporation director Stephen Montgomery and his fellow board members Bryan Mogridge, Bruce Irvine and Warwick Steel buying a fair amount of rights and shares on-market in the company's capital raising.
It probably is, but history suggests this is not a foolproof indicator of a business' prospects.
Take Nuplex, for example. There was hardly a great flurry of stock-buying by its directors around the time of its capital raising this year but it has done pretty well.
A market source with a longer memory than Stock Takes recalls some of Feltex's directors buying the company's stock for about $1.20 a share a matter of days before it came out with a shock profit downgrade which halved its market value.
Personally, Stock Takes would back Montgomery's business acumen over that of the Feltex board.
So is the strength of directors' on-market purchases of company's shares a weathervane?
"Hopefully it's not an inverse relationship," was our source's wry comment.
BUY THE RIGHTS
Lead underwriter First NZ Capital has been, not altogether surprisingly, the most active broker in terms of purchasing the rights. If it thinks the company is a sufficiently good bet that it is underwriting the rights issue, it would be telling its clients so.
On Monday, when 20 million rights changed hands, First NZ did just over 7 million of the buying with much of the rest spread around the other brokers.
On the sell side, Hamilton Hindin Greene did about 7 million which probably reflects their Christchurch and wider South Island retail client base, pretty much the group tipped as being those who have held PGC shares for a long time but who may not have the cash to exercise their rights.
It's been observed that if they couldn't come up with the money, they probably should have got out when the going was good.
Then again, it's also been pointed out that the implications of the capital raising probably took time to dawn on some of these folks.
There's been a steady flow of willing sellers of the rights since they began trading last week, but it looks as though the buying may be drying up somewhat.
Yesterday they traded as low as 0.7c each.
One broker commented that the scale of the capital raising meant there was always going to be severe price pressure on PGC's rights and its ordinary shares.
So much so that even if you're not entirely convinced of its bright future, at current prices its stock is arguably well below fair value considering its cash flows and assets, including its 20 per cent or so of PGG Wrightson.
On that basis alone PGC shares should see some upside in the months after the completion of the recapitalisation.
IT'S ONLY MONEY
Wednesday's media report that last week's tsunami might cost insurer Tower close to $20 million in claims from Samoan clients was a legitimate story but, let's face it, given the loss of life and livelihoods involved, the impact on the company's bottom line would hardly be top of mind for most of us right now.
Tower issued a statement after the story appeared clarifying that its exposure was likely to be about $5 million before tax, with its reinsurers assuming most of the liability under the company's "catastrophe cover".
From an insurance point of view, the story here, as has been reported, is probably the lack of cover.
Tower has extended assistance to its staff who have been directly affected by the disaster or have family affected and has been happy to collect donations for disaster relief.
"We are doing what we can do," was chief executive Rob Flannagan's comment to Business Day this week.
Yesterday he told Stock Takes donations to tsunami relief were a matter for Tower's shareholders to consider individually rather than something the company itself was contemplating.
Stock Takes assumes that Tower, which has a significant presence in the Islands, will regard helping Samoa pick up the pieces by paying out on claims resulting from the tragedy as the least it can do.
GOLDEN TOUCH
It's been a great week for listed mining stock Heritage Gold - up 40 per cent to 2.8 cents a share since the market closed last Thursday.
Presumably the surging price of gold has something to do with the investor interest.
The yellow shiny stuff is trading at an all-time United States dollar high above US$1045.
While that record is as much a weak US dollar story as anything, it is fair to investors for demand for gold is strong right now.
But for how long?
Heritage isn't actually commercially mining any gold right now and while it has some good prospects, the time frame for moving from exploration to commercial production is seldom short. Anyone taking a punt would have to be confident that the golden run is a long-term phenomenon.
By Adam Bennett

Email

Adam