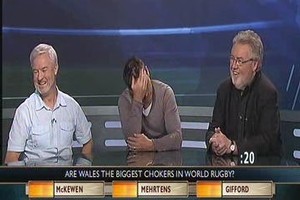 It was billed as a "fresh, lively show" with "an informal battle of opinions, observations and outrageously funny claims" but no one expected former All Black Andrew Mehrtens to behave incomprehensibly and draw claims of intoxication on TV3's live Rugby World Cup coverage.
The rugby legend, who now plays for French third division team Béziers, is one of TV3's high-profile commentators on the late-night, in-studio show Cup Talk which analyses the games of the RWC.
Mehrtens appeared on Monday night alongside rugby journalists Phil Gifford and Trevor McKewen. But it was his performance on the live telecast that had people wondering if he was under the influence.
Viewers took to social networking sites to discuss his behaviour, which included slurred speech, flushed face, reddened eyes and appearing to fall asleep at the desk.
"What has he been drinking?'' someone calling himself Little Manly posted on Facebook. "A lot by the looks of it, but still making a little sense," another responded.
MediaWorks TV's head of sport John McDonald said he "wouldn't have put him on the show if I thought he was drunk". He attributed Mehrtens' strange behaviour to tiredness. "He arrived in NZ direct from Paris on Wednesday and has been busy working every day."
However, Mehrtens told me on Thursday his schedule hadn't been too hectic. He acknowledged he knew people thought he was drunk on Monday's show and he admitted he'd had discussions with a TV3 publicist about it. But he then insisted on only talking off the record, refusing to comment publicly as to whether he was intoxicated or explain his behaviour. And then he hung up.
The company said in a press release last month Mehrtens, "is witty, unorthodox and has a cheeky flair". They're right. But serious questions need to be asked if he went on air under the weather.
Mehrtens, who is married and has three children to two women, will continue to appear on the rugby chat show. He is a very eloquent commentator with astute observations and a quick, wry sense of humour.
As the competition gears up over the coming weeks, we hope McDonald and TV3 - who will be looking for a ratings winner - take good care of their star and look out for any 'tiredness' before he goes on air again.
- Herald On Sunday / View