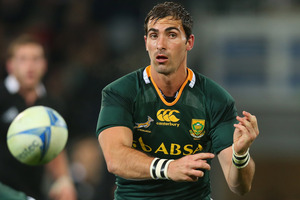 Just a few months ago Ruan Pienaar was being hailed in Ireland - where he now plays his provincial rugby - with an All Blacks test the furthest thing on his mind. He, in fact, probably thought his Springbok career was over ... how wrong he was.
And on Sunday at Soccer City, Pienaar will be the man on whose shoulders a test win against the world champions, New Zealand, will rest. How things have changed.
When Pienaar joined the Bok squad for the series against England he was second choice halfback behind Francois Hougaard, and that was it.
Now, eight test matches later, Pienaar is first choice, preferred to Hougaard in the No 9 jersey and his team's first-choice goal-kicker. And it's going to be up to him, to a large degree, whether the Boks are triumphant over Richie McCaw's All Blacks or not.
With Johan Goosen nursing a bruised heel Pienaar will handle the goal-kicking from the start.
This, despite him also missing several kicks at goal last weekend.
Bok kicking coach Louis Koen confirmed Pienaar would kick at Soccer City. "Johan [Goosen] went into the Loftus test having not kicked for two weeks. He tries with those two kicks, but then battled when landing on his heel. I'm preparing Ruan to kick this weekend ... and I'm putting in more time with him this week," said Koen.
Despite Pienaar being wayward with the boot, his general play has received praise from all quarters, including Heyneke Meyer who said: "He gave the backs quick ball last weekend and his service was excellent."
Meanwhile, prop Coenie Oosthuizen, who injured his neck against England in June, has been cleared to play after consulting with a neurosurgeon in Durban yesterday.
Ruan Pienaar
Age: 28
Height: 1.87m
Weight: 90kg
Tests: 64.

Play Jimungo Virtual End of Year Rugby Tours
Compete for prize money and bragging rights in Jimungo Virtual Rugby Tours - our game for the end of year international rugby matches. Simply choose the winning team and margin. Sign up now.