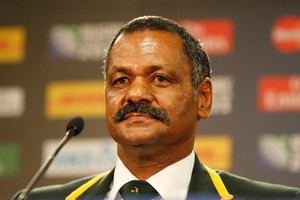 South Africa coach Peter de Villiers has retracted the resignation he appeared to make after the Springboks' 11-9 defeat by Australia in the World Cup quarterfinal.
The Springbok management and senior players have flown into Johannesburg overnight.
De Villiers says he never resigned and was just saying it was the end of the road but he is contracted to the Springboks until December.
Meanwhile 2007 World Cup winning coach Jake White wants to return to coach South Africa.
White has been appointed as coach of the Brumbies in the Super 15 but says being at the World Cup has re-ignited his desire to get back into international rugby.
He says he would make himself available for the Springboks job.