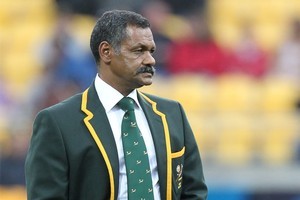 Springboks coach Peter de Villiers is set to quit after his side were eliminated from the Rugby World Cup on Sunday with a quarterfinal defeat to Australia.
The Wallabies knocked the defending champions out of the tournament with an 11-9 victory courtesy of a late penalty by James O'Connor.
When asked by the media after the match whether this was his last game in charge de Villiers said: "I think so".
"It was a brilliant journey, something that none of you guys can take away from me. There's a time to come and a time to go. So I think the journey for me is over," he said.
"I wanted to be the best me that I could be, the way that I am is the way that I want to be remembered."
Springboks skipper John Smit, whose test career along with teammate Victor Matfield ended with the loss, had plenty of praise for his coach after the defeat.
"As much as the pain flows through the heart right now, the other thing that was said in the changing room by many a guy was that we have had a great four years together and that had been pioneered by Peter," the veteran hooker said.
"He has made us enjoy every moment. He's given us leeway and space and he's tightened up when we have taken advantage of that.
"He's been a great man and he's helped us enjoy these four years and it's disappointing to end it like this."
- HERALD ONLINE