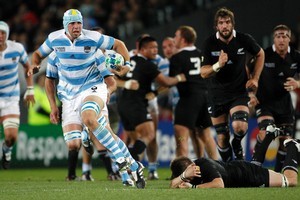 Argentina will make their Four Nations debut against South Africa next August, the Independent on Sunday has learned.
The Pumas will join the Springboks, New Zealand and Australia in the expanded tournament, with the August date forming the start of an eight-week schedule of home-and-away fixtures among the four teams.
That switch - the old-style Tri- Nations was played in June and July - clashes with the start of the English and French club seasons.
The International Rugby Board has already stepped in to force European clubs to release Argentinian players for six weekends in those eight weeks.
But English clubs are concerned at the potential impact on their contracted players. Representatives of Premiership Rugby will meet with the Argentinian Union in Auckland on October 17.
"The English clubs want to know when their Argentinian players will rest and who will be in charge of that," said Manuel Galindo, Argentina's chairman of high performance. "Our idea in the future is our union will have most of the players on contract in Argentina and only a few stars playing in Europe - about 10 would be the best."
This represents a huge shift compared with 23 out of the 30 current Argentina squad who are contracted to European clubs.
Popular and talented Pumas such as Horacio Agulla of Leicester and Exeter's Gonzalo Camacho seem bound to drift back to Argentina or head south to join Super Rugby teams, who have relaxed their rules on signing foreigners.
There could be a trade-off by Argentina resting European-based players from their three home tests in June, against Italy and France (two matches).
But the shift is likely to be complete after 2015 when the Sanzar (South Africa, New Zealand and Australia Rugby) unions have "committed to", in Galindo's words, accepting an Argentinian team into the Super 15.
The IRB has announced they would provide $10 million of funding to support the Pumas' entry into the Four Nations up to 2015, in addition to Sanzar's own funding.
- INDEPENDENT