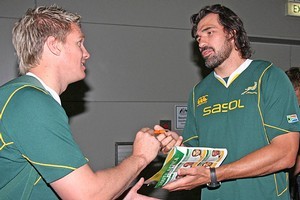 South Africa will be without lock Victor Matfield and second-five Jean de Villiers for their next encounter with Fiji in Wellington on Saturday, while Bakkies Botha remains unavailable after the opening days of the Rugby World Cup.
Matfield left the field at half-time during the Springboks' 17-16 win over Wales last night after he felt his hamstring tighten, while de Villiers suffered a rib cartilage injury.
Botha has been battling an Achilles tendon injury, which forced him out of the Welsh clash, and the problem isn't responding to treatment.
Springboks' team doctor Craig Roberts said today: "The two concerns from the [Wales] game were obviously Jean de Villiers who has picked up a ... grade-one rib cartilage sprain. We anticipate he'll probably be out for about 10 days with that," Roberts said.
"It was more of a precaution. We didn't want to make it a lot worse on the field so we made the decision to bring him off and the other one in a similar boat was Victor Matfield, who started feeling his hamstring tighten up.
He'll also need a couple of days - 10 days or so.
"Bakkies... hasn't responded as well as we have anticipated. We are still working on it and we haven't made a decision in terms of how we are going to continue on him at this stage."
Roberts wouldn't go in to specifics with regards to the treatment options for Botha, but said they had plenty of ideas in mind.
"There's a whole list as long as my arm that we do."
The second-row is an area of concern for coach Peter de Villiers, who will likely be forced to start Danie Rossouw and Johann Muller this weekend in the Pool D match against the dangerous Fijians.
De Villiers said there was a chance a replacement would be called in and a decision would be made on that "sooner than later".
"We've got a great medical team and they are in my ear all the time and it's only an 18-hour flight and there's a wealth of talent back in South Africa. If we need them, we bring them."
South Africa will name their team on Thursday morning and de Villiers said the composition of the match-day 22 would reflect their opponents.
"It all depends on who we are playing on the day and what we want to achieve and what we want to get out of the game that will help us make that kind of decision."
There have been calls to see Bismarck du Plessis start at hooker in place of captain John Smit, but de Villiers said having a strong bench gave his side a point of difference.
- APNZ