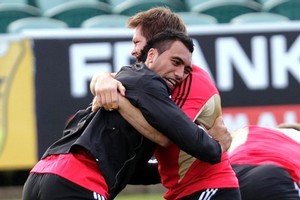 Have passport will travel. Or maybe not. The verdict will be out today but the arrival of loose forward Victor Vito suggests he may be going through Customs with the All Black squad for their next test in South Africa.
The All Black coaches were out of comment range yesterday so hints about the squad formation were minimal, but their original plan was to choose 24 players for the match against the Boks in Port Elizabeth.
Vito got the call from coach Graham Henry before his Wellington team's ITM Cup game against Northland, to head north yesterday. Mention of travel documents was blurred but Vito said he always carried his passport just in case.
He had little idea about his duties in the two-day training camp with the team or what lay in the future but was elated to get the call-up and do what he could to help. Whether that meant two days' work or two weeks' he would have to see.
One theory is that Vito's arrival will allow Henry to leave senior loose forwards Richie McCaw and Kieran Read behind so they can join the squad in Brisbane for the final Tri-Nations test against the Wallabies.
That would mean Jerome Kaino, Liam Messam, Adam Thomson and Vito handling the loose forward work against the Boks.
"There is elation really any time you get a second chance, and the black jersey always means a hell of a lot," said Vito.
The loose forward played six tests last year but missed the end-of-year tour when the selectors took Daniel Braid as their alternate pick.
This year a fit Adam Thomson returned while Braid's season staggered because of injury.
"Some guys have had a long campaign so I'm here to help," Vito said. "If I go away, so be it."
Loosehead prop Tony Woodcock is definitely in the travel squad after being excused further games because he tweaked his hamstring playing last week against Manawatu.
"It has been a frustrating time with injury but I am pleased to be pretty much fully fit and ready to go," he said yesterday.
The medical staff were happy about his lengthy rehab from a foot ligament problem he suffered three months ago. It had been slow but the outcome had been beneficial.
He wanted to play against the Boks and hoped they would have their strongest combination after their training camp for the rematch at Port Elizabeth. If their best side was fit he expected to oppose Jannie du Plessis, a very competent tighthead prop.
"They'll have guys coming back from some rest and they will be fired up," he said.
Woodcock had his own downtime after his foot injury but he was confident he would hold up to the rigours of test rugby.
"I'm very fresh and raring to go," he said. "At times it has been frustrating but it has been great conditioning."
The Springboks would deliver a serious physical presence and high-impact style and the All Blacks would need to be prepared to counter that.
They leave tomorrow and if their connections go smoothly they may reach their initial hotel in South Africa about the time the Boks play the Wallabies in Durban.