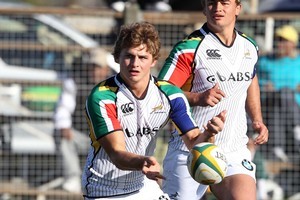 Remember a woolly-haired youngster out of Durban with huge potential?
Francois Steyn was just 20 when he helped spearhead the Springboks to glory in the last World Cup. He was a huge man with a howitzer boot and great skills, now playing his trade in France.
Now another 20-year-old with a mop of hair from the same Durban area is making his bid to be part of this year's tournament in New Zealand.
Patrick Lambie is a multi-talented back who has played off the bench for the Boks but makes his first test start at the Cake Tin as fullback tomorrow.
He says he is just as comfortable in the No15 jersey as he is playing at five- eighths. He had spent equal time in both roles during his brief career.
Lambie played for the Sharks against the Hurricanes at the Cake Tin last year when conditions were a little damp and cold. He hoped for better tomorrow.
His dream this season had been about making the World Cup and that was still in his grasp and getting closer.
"Every team has their structures and gameplan and I will be sticking to the one we have in place for this test," he said.
"But in saying that there are no limits within the structures, I am encouraged to play what is in front of me like I have been throughout my career so far.
Sharks coaches, New Zealanders John Plumtree and Chris Boyd, had encouraged him to play his natural game and search for space on the field.
"It's been great to be under coaches like that," he said.
The Sharks were considered to be an expansive side and while that had not always been profitable in the Super 15, that style worked well for them in the last Currie Cup.
"The All Blacks got off to a good start in their international season last week against Fiji and a look at the side they have picked [shows it] is full of stars and gamebreakers and we will have to be on our best to beat them this weekend, Lambie said.
"It is a massive opportunity for a lot of guys in the squad including myself.
"Obviously it is great to be on tour and to play for the Springboks against New Zealand is something I have dreamed of all my life."
He had played off the bench last week against the Wallabies but that was a very different scenario.
The Springboks had taken a while to smile at each other and forgive after the inter-franchise battles of Super rugby but this Springbok team was united and ready to give it a much better shot tomorrow.