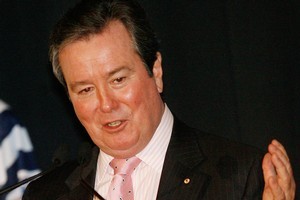 The Australian Rugby Union has called on rugby chiefs to investigate after the Springboks said most of their top players would be missing from upcoming Tri-Nations matches, a report said Friday.
South Africa said Wednesday that 21 of the preliminary Rugby World Cup squad were injured and unavailable for the away leg of the Tri-Nations.
The Springboks meet Australia in Sydney on July 23 and title-holders New Zealand in Wellington a week later but only three first-choice players are available for selection in the Tri-Nations squad to be named on Saturday, the Sydney Morning Herald said.
In 2007, South Africa took a similar approach before winning the World Cup, which led to them being chastised by New Zealand and Australian officials.
The SANZAR (South Africa, New Zealand Australia Rugby) countries have since signed an agreement that ensures they do not damage any of its competitions through fielding weakened teams.
ARU chief executive John O'Neill said he had called on SANZAR's chief executive officer Greg Peters to investigate the matter.
"The difference between 2007 and now is that we now have a permanent SANZAR office with a CEO, who has the job of monitoring and policing such matters," O'Neill told the Herald.
"He (Peters) will be following up on this announcement.
"A couple of weeks ago we had rumours coming out of the Republic that they may be sending an understrength team.
"We received assurances at the time that the only players not included would be genuinely injured.
"We have a joint venture agreement and a broadcasting agreement, and it is important that the three countries don't just comply with the letter of the law, but also the spirit of the contract.
"Joint ventures rely on people acting honourably and consistently."
O'Neill said he was surprised at the extent of the Springbok injury list.
"We're not in a position to second-guess the Springboks, and we also have our share of injured players. But it is nowhere near 21. The sheer size of the number of players who are injured is unusual," O'Neill said.
"That's why we have asked for assurances. Regardless of what South Africa does, our preparation for the World Cup starts now, and the integrity of the Tri-Nations series is critically important."
- AFP