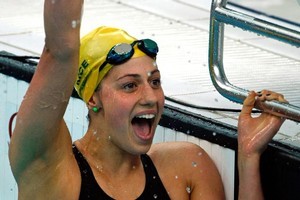 SYDNEY - Australian triple Olympic swimming gold medallist Stephanie Rice has been stripped of her sponsorship deal with luxury carmaker Jaguar after she posted a homophobic remark on Twitter.
She landed herself in controversy after tweeting "Suck on that faggots!" in triumph at Australia's narrow win over South Africa in the Tri-Nations rugby test last weekend.
Openly gay former rugby league international Ian Roberts led condemnation of the remark, which Rice has since removed and apologised for, calling her and anyone who supported her an "idiot".
Jaguar yesterday announced it had scrapped its sponsorship deal with the 22-year-old and said she would have to give back her XF sports car, worth more than $126,000.
"We have terminated our agreement with her," Jaguar spokesman Mark Eedle said.
"The terms of the agreement remain confidential. Suffice to say she's obviously been driving one of our cars and that benefit will no longer happen."
Eedle said Jaguar wished to distance itself from the Twitter comment.
"It's to do with how we want to associate our brand and unfortunately this is not an association we want to have going forward."
But gay Olympic diver Matthew Mitcham, a gold medallist at the 2008 Beijing Games, came to Rice's defence on the microblogging site.
"It was offensive and very thoughtless, but being friends with her for two years, I know she is not homophobic," Mitcham wrote.
"She meant no malice, and she has apologised for her careless comment posted in the excitement of the moment."
Rice, who was forced out of the Commonwealth Games team with a shoulder injury last month, has been romantically linked to Wallabies player Quade Cooper.
- AFP