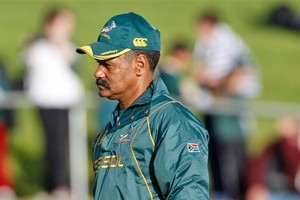 Springboks coach Peter de Villiers is yet again in hot water - this time over comments in support of murder-accused Bulls prop Bees Roux.
Roux has been charged with beating a police officer to death in Pretoria last week and has claimed he was acting in self-defence because he was being robbed.
de Villiers says the team supports Roux 100 percent, not on the deed, but the circumstances that led to the situation developing.
South African media has reported the outspoken de Villiers could face a charge of bringing the game into disrepute which might threaten his job.
The controversial coach faced a SANZAR hearing last month for making comments that suggested the All Blacks were being given an unfair advantage by referees.
- NEWSTALK ZB