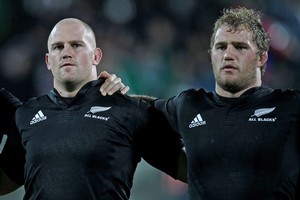 It was early, most people were still chewing through breakfast or making their way to work.
All Black scrum coach Mike Cron had already been to the gym with a few of the others on the staff, had something to eat and was sifting through footage on his laptop.
No prizes for guessing what was on screen.
"Hey look at this," he motioned. "Look how this guy is going."
This guy was Ben Franks, the other Franks, the Australian-born elder propping brother of Owen.
Most of us have seen a few scrums and remain none the wiser on what happens in those collisions between rugby flesh.
But Cron can't get enough of the front-row combat and scrum machinations. He dotes on it, he makes it sound simple and is so enthusiastic about that part of the game.
He reckoned Ben Franks had made enormous gains since his surprise elevation to the All Blacks in 2008.
Franks was called into an All Black training camp then because of some apparent anxiety about injury among John Afoa, Greg Somerville, Neemia Tialata, Tony Woodcock and John Schwalger who were in the squad.
Some of us wondered whether this was a ploy to remove the Melbourne-born front rower from any selection raids from Robbie Deans and the Wallabies.
Franks had played in age-grade tournaments for New Zealand but seemed to be down the favoured list even for the Crusaders.
But there he was and that year he made the All Blacks' end of year tour and played one game, against Munster.
Curiously, only Franks and Woodcock remain in the All Blacks frontline from that trip.
Afoa is considered a hybrid hooker-prop now, Tialata and Jamie Mackintosh have been sent to work in the national championship, while Somerville went overseas and will join the Melbourne Rebels next season.
After Franks' first taste of the international life, he had last season interrupted because of a stress fracture in a foot. Brother Owen stepped forward as his replacement while Ben battled through rehab sessions and work with Tasman in the national championship.
The slog worked and both brothers made the All Black cut this season and started the opening test against Ireland at New Plymouth. Ben wore the No1 jersey and bashed through a strong test debut while also scoring a try.
In the Tri-Nations he has come from the bench to sub his brother in all four victories. Cron liked what he saw.
"This guy has improved so much, his technique is getting sharper all the time and he has come on so much since we first had him. You could not ask any more from him and his brother, they just work their backsides off," the scrum coach said.
This weekend in Soweto the starting order has been reversed. Coach Graham Henry explained the change as a chance for the younger Franks to recharge mentally and physically.
"I think he's got a huge future in the game and we don't want to kill him by pushing him out there week-in-week-out," Henry said. "Ben's had the advantage that he's played on both sides of the scrum. He's a little bit older [four years], but they both bring a great attitude.
"They both have very high personal standards and work very hard. They're very similar, which is understandable I guess, but we've been delighted with Ben, he's progressing all of the time."
Franks made his debut against Ireland then played against Wales, before hitting the subs bench. His seventh test on Sunday in Soweto will be the biggest challenge in his short career.