Knight Companion of the NZ Order of Merit, for services to equestrian sport.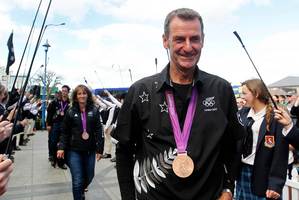 Sir Mark Todd returned to the Olympic podium this year, his team bronze equalling the world record of 28 years between first and last medals.
But he isn't finished.
"Hopefully one more," Sir Mark said.
He is made a Knight Companion in today's New Year's Honours.
He laughed that he would be the only knight riding on the equestrian circuit - though without the shining armour, of course.
"Never in my wildest dreams did I imagine I would have such a long and successful career," Sir Mark said.
"I started off just wanting to represent New Zealand at an Olympic Games."
His chance came in 1984, and he won gold at Los Angeles. He thought it could be his only shot.
But he won gold again four years later, and left the sport in 2000 with a bronze at the Sydney Games.
Sir Mark returned after eight years and later helped win a team eventing bronze in London - the first medal for New Zealand since he left.
"The eight years away revitalised me and re-enthused me," he said.
Sir Mark is on holiday skiing in France with his son and looking to get back with new goals in January.
He is aiming for the 2016 Games in Rio de Janeiro but will take it a year at a time, he said.
The knighthood is a recognition for everyone who has worked with him and supported him, he said.
"It's very humbling, really.
"It's going to take a bit of getting used to. I don't think it's going to make any difference, but it's wonderful."
Sir Mark has won the prestigious three-day event at Badminton four times and the Burghley three-day trials five times.
In 1995, he was made a Commander of the Order of the British Empire, and in 1999 he was voted eventing rider of the century by the International Equestrian Federation.
He was also voted Horse and Hound Equestrian Personality of the Century in the same year.
His bronze at London made him New Zealand's oldest Olympic medallist, at 56.