Four-time Tour de France winner claims his legacy will not be tainted after he returned an "adverse" drugs test at the Tour of Spain, which he also won in September.
The Guardian in Britain and Le Monde in France overnight revealed that a test taken on stage18 of the Spanish Vuelta on September 7 returned a finding of twice the permissable dose of the asthma medication salbutamol.
In an interview with the BBC in Mallorca, Froome said he "knows the rules" and there was "no wrongdoing".
"I understand this comes as a big shock to people," he said. "I certainly haven't broken any rules here," he says in the interview.
Read more:
What is salbutamol and what's banned
Issues in UCI investigation into Froome's use of asthma drug
Cycling's world governing body the UCI wants more details from the team but says Froome is not suspended.
Both Froome's 'A' and 'B' samples revealed excess salbutamol. In a statement the UCI said that "the presence of a Specified Substance such as salbutamol in a sample does not result in the imposition of such mandatory provisional suspension against the rider."
The WADA threshold for salbutamol is 1,000ng/ml. According to the UCI, Team Sky was notified of the finding on September 20, the day he finished third in the elite men's time trial at the UCI World Championships in Bergen.
The use of Salbutamol is permitted, without the need of a therapeutic use exemption (TUE), but only within certain doses.
Froome says he increased his dosage but it was within the legal limits, adding that he was "only too happy" to help the UCI "fill in the blanks".
Asked whether he felt his legacy was permanently tainted, Froome said: "No."
He added: "I can understand a lot of people's reactions, especially given the history of the sport. This is not a positive test.
"The sport is coming from a very dark background and I have tried to do everything through my career to show that the sport has turned around."Read more: Froome ready to ride Giro next year
Froome's use of asthma medication has been well documented, and the Kenyan-born rider has often been spotted using inhalers in the peloton. He has repeatedly faced questions on whether he is a clean rider, especially during the Tour de France, and has always denied wrongdoing.
Salbutamol is a drug that helps expand lung capacity and can be used as a performance-enhancing drug to increase endurance. Commonly marketed as Ventolin, salbutamol is classified as a beta-2 agonist and WADA allows it to be taken through inhalation only, in limited amounts.
Sky said Froome had to take an increased dosage of salbutamol without exceeding the permissible dose after he "experienced acute asthma symptoms" during the final week of the Vuelta.
He told the BBC he took his team doctor's advice to up his inhaler use after his asthma symptoms got worse.
"I have been a professional cyclist now, treating my symptoms and racing with asthma, for 10 years," said Froome.
"I know what those rules are, I know what those limits are and I have never been over those limits.
"I have got a very clear routine when I use my inhaler and how many times. I have given all that information to the UCI to help get to the bottom of it."
If found guilty of doping, the 32-year-old Froome could lose his Vuelta title and be suspended for a long period. Sprinter Alessandro Petacchi was suspended for one year for testing positive for salbutamol during the 2007 Giro d'Italia.
Vuelta organizers said they are waiting for "official conclusions" from the UCI about the case.
"The position of La Vuelta's organizer is one of extreme caution, as it hopes for this issue to be resolved as quickly as possible," they said in a statement.
Froome was expected to attempt to join cycling greats Eddy Merckx, Bernard Hinault and Miguel Indurain on the list of five-time Tour de France champions in July. Lance Armstrong won seven titles, but all of them were stripped because of doping.
Team Sky has been dominating the field at the Tour de France in recent years, but has been targeted by doping accusations. Britain's anti-doping agency last month closed an investigation into the team without bringing charges. The case centered on the contents of a medical package dispatched to former Tour champion Bradley Wiggins at a key pre-Tour race in 2011.
Team Sky was established in 2009 by Dave Brailsford, the man behind Britain's 14 medals at the 2008 Beijing Olympics, with the target of producing the country's first Tour champion — a feat accomplished by Wiggins in 2012. Froome, his former teammate, has taken over since as Britain's most successful road rider.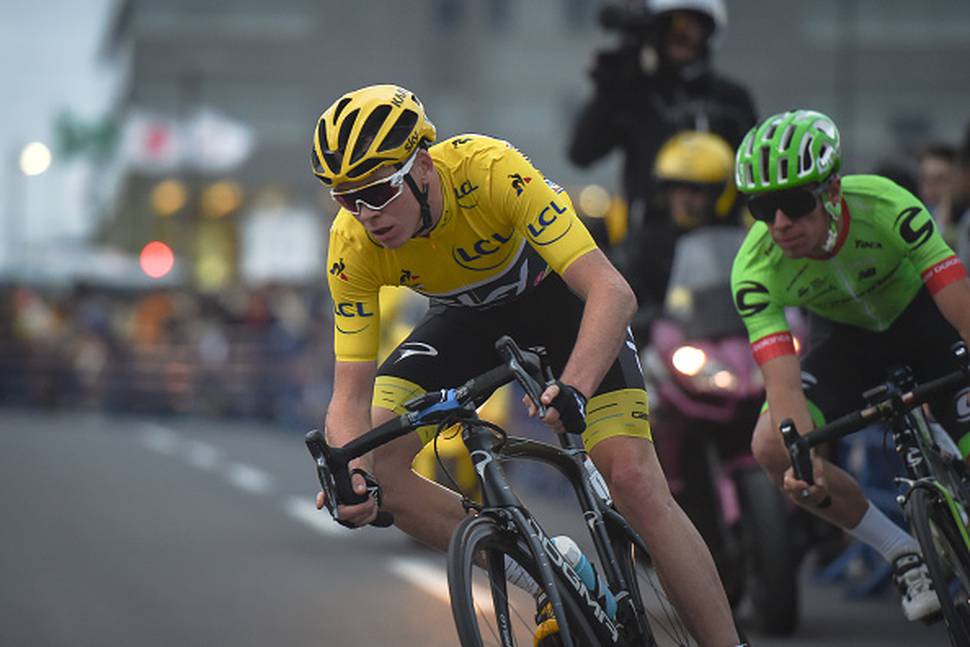 After successfully defending his Tour de France title in July, Froome went on to win the Spanish Vuelta for the first time.
"My asthma got worse at the Vuelta so I followed the team doctor's advice to increase my Salbutamol dosage," Froome said. "As always, I took the greatest care to ensure that I did not use more than the permissible dose. I take my leadership position in my sport very seriously. The UCI is absolutely right to examine test results and, together with the team, I will provide whatever information it requires."
The UCI said in a statement that Froome's "B'' sample confirmed the result, but stressed that "the presence of a specified substance such as salbutamol in a sample does not result in the imposition of such mandatory provisional suspension against the rider."
Sky stressed the abnormal result does not mean Froome has breached anti-doping rules and Brailsford insisted he has the "utmost confidence that Chris followed the medical guidance in managing his asthma symptoms, staying within the permissible dose for Salbutamol."
According to Swiss physiologist Raphael Faiss, intense effort, fatigue and dehydration can affect urine concentrations of salbutamol in doping tests.
Quoting a scientific study from 2015, Faiss, a researcher in anti-doping at Lausanne University, told The Associated Press in a telephone interview that "between 10 and 30 percent" of the people tested may have readings beyond the permitted thresholds when inhaling the legal quantity of salbutamol.
Froome said last month that he wants to ride in next year's Giro d'Italia in an attempt to win his third Grand Tour in a row. A victory at the Italian race would make him the seventh rider to win all three Grand Tours, and only the third to hold the three titles at the same time.